In the rapidly changing digital advertising industry, keeping abreast of emerging channel opportunities is crucial for PPC search marketing agencies. Amazon, the e-commerce giant that has transformed the way we shop, is now making waves in the advertising industry. While Amazon has been a staple for e-commerce advertising, the introduction of Amazon Service Ads has opened up a new, exciting frontier for PPC agency professionals. Amazon Service Ads are non-endemic service ads served to Amazon buyers on the amazon platform for local services such as carpet cleaning, plumbing or HVAC installation. In this blog post, we'll explore why Amazon Service Ads are poised to be the next big ad channel for PPC agencies, along with the impressive performance metrics of Amazon's existing ad products.
Amazon's Vast User Base with Commercial Intent
Amazon's user base in the United States alone stands at a staggering 230 million. What sets Amazon users apart from users on other platforms is their unwavering commercial intent. When users visit Amazon, they are on a mission to shop, making them 100% commercial intent users. This intense buying behavior is a treasure trove for advertisers because it means users are actively seeking services and are more likely to convert. Whether it's purchasing a product or finding a local service provider, booking a plumber, or scheduling a home cleaning, Amazon users are primed and ready to make a purchase.
For PPC ad agencies, this laser-focused intent translates to higher average conversion rates, a more efficient allocation of advertising budgets and happier clients. While other platforms may have a mix of user intentions, Amazon's users are there for one reason: to buy. This translates into a massive audience that is not only extensive but also motivated to convert.
Impressive Performance Metrics: High CTR and Low CPL
Amazon's advertising products, including Amazon Sponsored Products and Sponsored Brands, have consistently delivered impressive performance metrics. Among these, one standout metric is the average Lead-Through Rate (LTR), which is estimated to be around  9.6% as of June 2023. (Figure sourced from publicly available estimates from June 2023). This is a substantial achievement when compared to other advertising platforms.
However, what truly sets Amazon's advertising products apart is the astoundingly low Cost Per Lead (CPL) compared to other major channels. On average, Amazon's CPL is a mere $9, while Google's CPL is around $27, and Meta's (formerly Facebook) is an astonishing $375. These cost savings are a game-changer for PPC ad agencies and their clients. A lower CPL means that you can make the most of your advertising budget and generate a higher number of high-quality leads for your clients.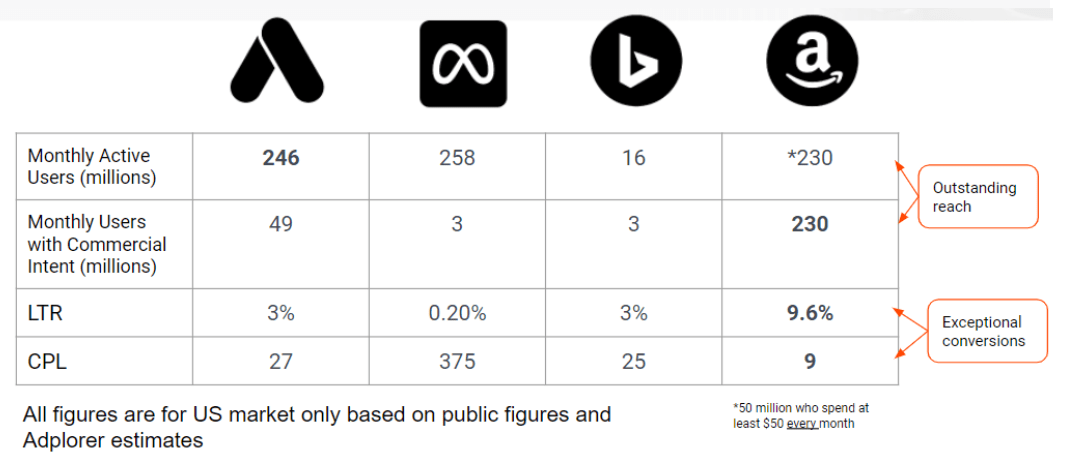 n an industry where return on investment (ROI) is the ultimate goal, Amazon's advertising products stand out for their efficiency and cost-effectiveness.
Introduction to Amazon Service Ads
While Amazon's existing ad products have already revolutionized digital advertising, Amazon Service Ads are poised to change the advertising industry once again. These ads are designed for companies offering services and are displayed on Amazon product pages. This means that your service-based business can gain visibility and capture potential customers right at the moment of purchase intent.
Imagine someone searching for a new refrigerator or a television on Amazon. With Amazon Service Ads, a local appliance repair service, or a home improvement contractor can showcase their services directly on these product pages. This creates a unique opportunity to connect with users who are actively considering a related service, ensuring your business gets noticed at precisely the right moment.
Powerful Audience Segmentation
One of Amazon's strengths is its powerful audience segmentation capabilities. Advertisers can access valuable insights into audience purchasing behavior and account status, which is particularly useful for B2B service providers looking to target procurement accounts and decision-makers. Knowing your target audience's profession and buying behavior allows you to tailor your ad campaigns for maximum relevance and impact. This audience segmentation will likely continue to improve through Amazon's access to rich demographic data through Alexa, Amazon Prime, AWS, IMDB and Twitch. This level of audience segmentation opens the doors to highly targeted advertising campaigns. Whether your clients are offering professional services or consumer-oriented products, this precision in targeting can make a significant difference in the performance of your ads.
Eligible Business Categories for Service Ads
Amazon Service Ads are expanding to cover an array of business categories, offering a wide range of opportunities for local PPC ad agencies. As the time of writing, the following business categories are eligible for Service Ads:
Consumer Services:
Personal care services

Dry cleaning and laundry services

Household goods repair & maintenance
Media & Entertainment:
Recreation and entertainment, including museums, performing arts, amusement parks, etc.

Streaming services
Travel and Hospitality:
Restaurants

Hotel chains

Accommodation services
Automotive:
Car/motorcycle dealerships

Automotive repair & maintenance
Home & Building Services:
Building contractors

HVAC services

Electrical, plumbing, flooring, landscaping, and more
Education:
Universities and colleges

Certification services

Tutoring services
The inclusion of these diverse categories highlights Amazon's commitment to catering to a broad range of services, making it an attractive platform for a multitude of clients and industries. Amazon Service Ads offer a significant opportunity to connect with a broad and engaged audience in these categories, further expanding your reach as a local PPC advertising agency.
In conclusion, Amazon Service Ads are poised to be the next big thing for local PPC advertising agencies. With Amazon's vast user base, high commercial intent, impressive performance metrics, and the introduction of Service Ads, Amazon has opened up a new frontier for advertisers. The powerful audience segmentation tools and the growing list of eligible business categories further enhance the appeal of Amazon as a premier advertising platform. Don't miss out on the incredible potential this platform holds for PPC ad agencies and their clients. It's time to embrace the future of advertising with Amazon Service Ads.
If you're interested in learning more about how Adplorer can help your agency offer scaled Amazon Service Ads click the button below!