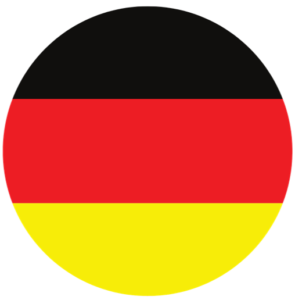 DE
If you have been reading our other blogs in the "In The Trenches" Series then you know we have been throwing a lot of information at you about what kind of online local Marketing is out there, how to set it up, and how all of the pieces work together. Now, I want to take a break from all of the technical parts of these tools and talk about our approach to selling these solutions to local businesses.
Below I am going to take you through the sales journey that we go through to sell local digital marketing, but before I do let me explain the overarching theme here: 
WHY!
That's not a question in this case but the definitive state of mind that you must adopt about your business's purpose, your sales, and the way you work with your clients. You see, small business owners have marketing agencies calling them every day, if you don't believe me just ask them. You need to stand out from the noise and be someone who consults with them and isn't all about the sale, someone who asks genuine questions about their lives and their businesses and can emphasize with what they are trying to do.  (If this WHY concept sounds familiar to you then you probably know that I am pulling from material from Simon Sinek.)
 [To learn more about the WHY concept, click here to go this TED Talk on the subject.]
When you take this consultative approach, one where your business's purpose is about solving small business owners' local marketing problems and not about selling a product, you will find yourself delivering value all throughout the sales process – which never really ends.
Embrace this approach and your clients will not see you as a vendor but as a partner who they can reach out to for advice during and after the sale; and someone they will tell their business owner friends about.
Now let's jump into the consultative sales process: 
1. Pre-Sale 
To me, this is the most important part of the sales process. The better you this, the easier the rest of the process will be.
Even before we start selling at Adplorer, we have to make sure that the businesses we are selling to know who we are and what we are about. This means we have to set ourselves up for success by establishing our brand persona and then putting our message out there so that the right people will find us. A major part of this is our website that includes, among other things, a breakdown of the services we offer and blogs like the one you are reading now. The key here is we are adding value to the website in such a way that shows that we are a valuable ongoing source of information for them, not simply a company that is trying to sell them a product. 
Pre-Selling is all about getting out there and connecting with people so that they can discover your message and what you have to offer. While your website is ultra-important here, there are other ways to add to your website efforts:
Find the right conferences (or for 2020, the right virtual conferences) that apply to your industry. Then, don't just attend them, but where you can, have a booth there. When it is possible, offer to present or hold workshops or participate in round table discussions 

Develop an ongoing e-mail program with potential customers (they could sign up on your website or at conferences you attend) where you send everyone on the list your latest blogs and ask them to check them out

Post on Facebook Group Pages that apply to your industry – get involved in the discussion by answering some of the questions that people have about the services you offer 

If your product or service is more B2B, then consider posting your blogs as articles on LinkedIn
There are a number of other things you can do to get out your message and start connecting with your potential customers. The key is to pick out the ones that you think will be most effective for your situation, map it out, and start connecting. The more touches, the better. Once you figure out what is working, what gets people to start talking both about you and with you, then keep doing it over and over so that you build that following and more importantly that sales pipeline. Like I said at the beginning of this section, the better you Pre-Sale, the easier the rest of the process is.  
2. Discovery Call
When I make a connection with someone at a conference and they start asking me questions about what we do, about marketing, or even the industry, I know they are ready for a call. Something they have seen or heard has them wanting more. They are hooked. Only then do I ask them for their contact information. If time permits at the conference, I set a time to talk with them there. However, what I usually end up doing is telling them that I will reach out to them right after the confidence to set up a time for us to talk more about what Adplorer offers and more about their situation. This gives them a chance to relax, not think about the conference and focus in on our call.
Requests for calls can come not only from conferences but from all kinds of places: your website, webinars that you lead, speeches that you made in local industry organizations, from Facebook Group Pages where you answered someone's question, anywhere. Wherever they come from, keep in mind, you need to respond to them promptly (within 24 hours) and get that discovery call scheduled.
For the discovery call, I want to know more about them, their business, and their situation. I need to know what their problem areas are, what their goals for the business are, etc. I want them to quickly see that I am not just pitching them the latest online marketing tool but instead trying to get to know them so we can figure out how we can work together. They usually appreciate this.
Below are 12 questions you can ask on a PPC discovery call. I don't want to ask these questions in a questionnaire format, you must work them into the conversation. Their answers will give me the information I need to figure out how Adplorer can help them while showing them how much I am interested in their business.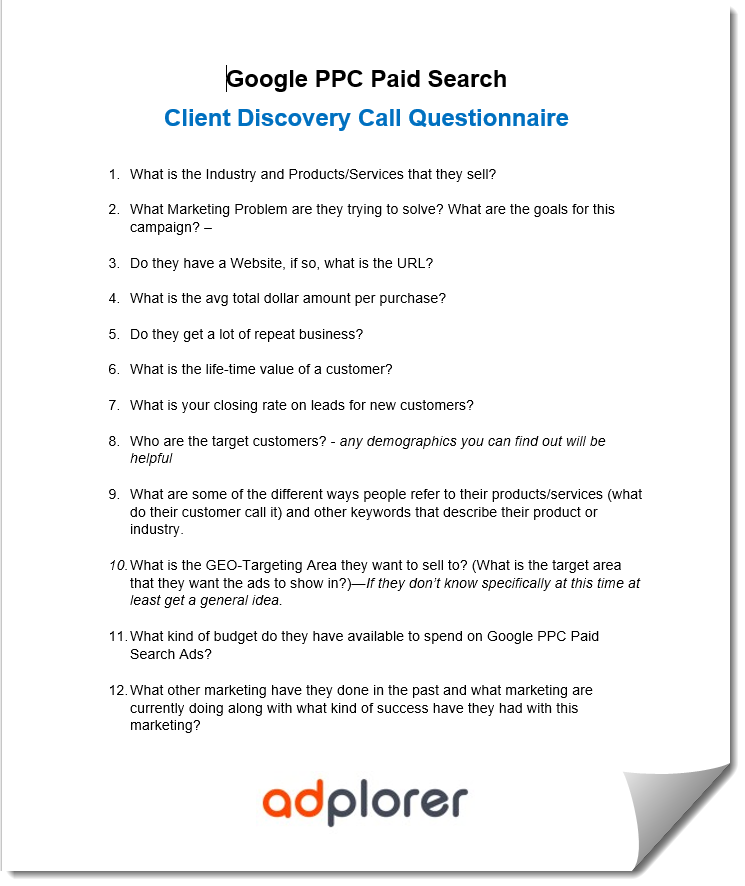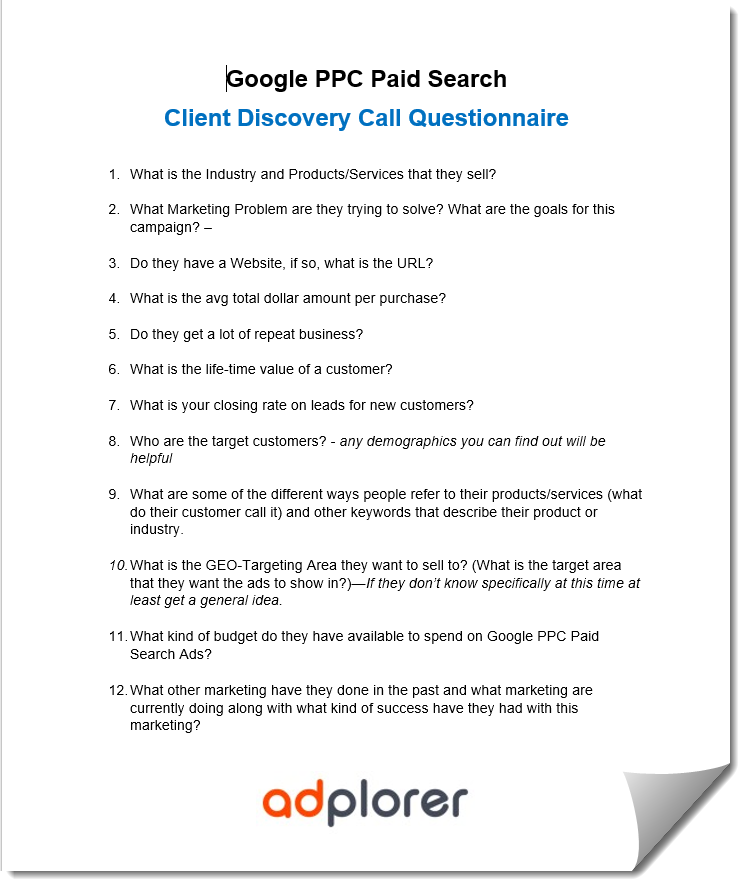 Once I am done getting all of the necessary information from them, I like to tell them a little bit more about us (Adplorer) our mission, our history, accreditations, and some of the clients we are currently working with. Using the information they have provided to me, I like to repeat some of this back to them to show them that 1. I heard them and 2. Give them an example or 2 of how we have worked their type of situation before and what we were able to do — I do this to help concrete my credibility with them. 
Then I conclude the call by setting up a follow-up call with them for about a week out–the proposal call–where we will go over in detail what we can do to help them.
NOTE: Discovery Call = Casual communication with clients to get to know them while getting as much information as you can about their situation and needs while reminding them why they want to work with you. 
3. Develop a Strategy and Build Proposal
Next, you need to figure out what solution(s) you can offer them to solve their problems and reach their goals and create a proposal presentation deck to explain this. 
Here are the keys parts of my presentation decks:
Why They Should Work with Adplorer:
Adplorer (who we are) – include: 

Accreditations worth mentioning (e.g., "Certified Google Partner", etc.)

Partners Page (brag about who your clients are and other companies you have relationships with)

When appropriate have a team members page introducing the people they will be working with on your team and what their accomplishments/accreditations are

Why They Should Use Our Solution: 

Why what we do works: Here we mention what makes us different – for us it's our proprietary technology, our collective intelligence algorithm we use to make the campaigns as smart as possible, reporting and transparency that makes us stand out. — value, value, value.
What Our Solution is and How it Works:
Layout each part of the solution, again why we recommend each piece, and how they work to achieve the goals (e.g., "…Our research shows that the online Google Search Volume for your industry is high for your industry in your GEO Targeting area because of this and (mention the other reasons here)….we feel that a PPC campaign would help you generate X new leads per month).  Don't make it too complicated. Think Problem — Solution.

Cost Breakdown — Don't make this too complicated and don't hide cost. I have had prospect after prospect over time tell me horror stories of them working with marketing firms that charged percentages for everything. There was so much hidden cost, the client had no idea exactly what they were paying for. 
4. Proposal Call
Now it's time to show them the details of your proposal. Throughout this process, you need to continue to add value where you can. Remind them how great your reporting is going to be. How transparent your processes are. One of the things I like to do, as I am presenting, is to continue to remind them how we are going to continue to work with them during and after the sales process. I say things like "Once we get your campaigns up and running, you will be working directly with your Adplorer Success Manager, [insert name here] and they will be doing monthly follow-up calls with you to go over your reporting and results of your campaign." 
Another thing that can add value in your presentation: Use Case Study Example from current clients where it applies–case studies are strong and show you know what you are doing.
5. Close
For the Close, keep it simple. I finish up my presentation by going over the cost and how it works with the budget they originally told me they had to work within the discovery call. Then, I start talking about the timeline again. First, our timeline to get them getting started with us, our timeline on the work we are doing for them, and then their timeline to reach the goals they are trying to achieve. Usually, I can tell from asking a few questions if they are ready to make a decision. If they aren't, I ask them about their next steps and what their timeline is for a decision and schedule a follow-up call with them to match their process.
6. Follow Up
Once I have signed them up, our next steps are to walk them through the setup process. Once they are set up, they are working directly with their new customer success manager. Then I let them know that I will also be there for them in the future too if they ever need someone else to reach out to.
Other Things to do Worth Mentioning: 
–Always be building your network and your sales pipeline
–Don't forget to ask for the sale — You are there to close not sale
–Ask for Feedback/Reviews
–Give referrals and don't be afraid to also ask for them – for example, if you do local marketing and you know someone owns or works at a PR firm, then you guys should talk