In this series, we've spent considerable time establishing the importance of Google in terms of how people find your business. Now that you know that you should be utilizing the different Search Engine Results Page (SERP) features to take up as much real estate on Google as possible, the next major concept you need to understand is that Google isn't just how people find your business, Google is your homepage. More so than Facebook, Yelp, or even your own Business Website, Google is your homepage. Thousands of searchers find the answers they are looking for on the Google SERP every day without ever leaving Google in what we in the digital marketing world like to call a "No Click Search." 
No Click Search: A search where a search engine user never leaves the Search Engine Results Page in order to get the information they are looking for. Example: A customer asks "what time does the shake shack open?" and finds the answer without clicking to the Shake Shack website.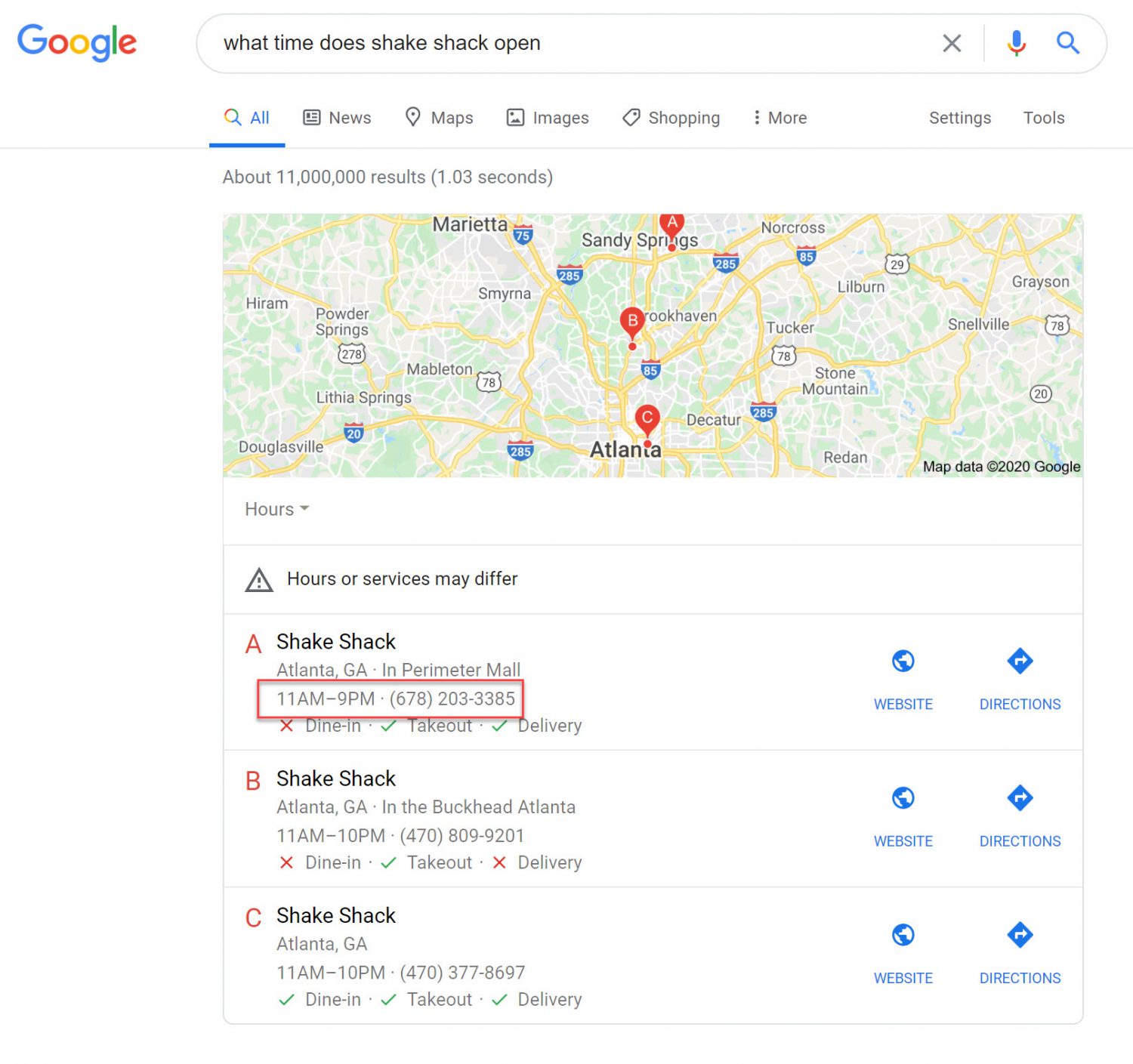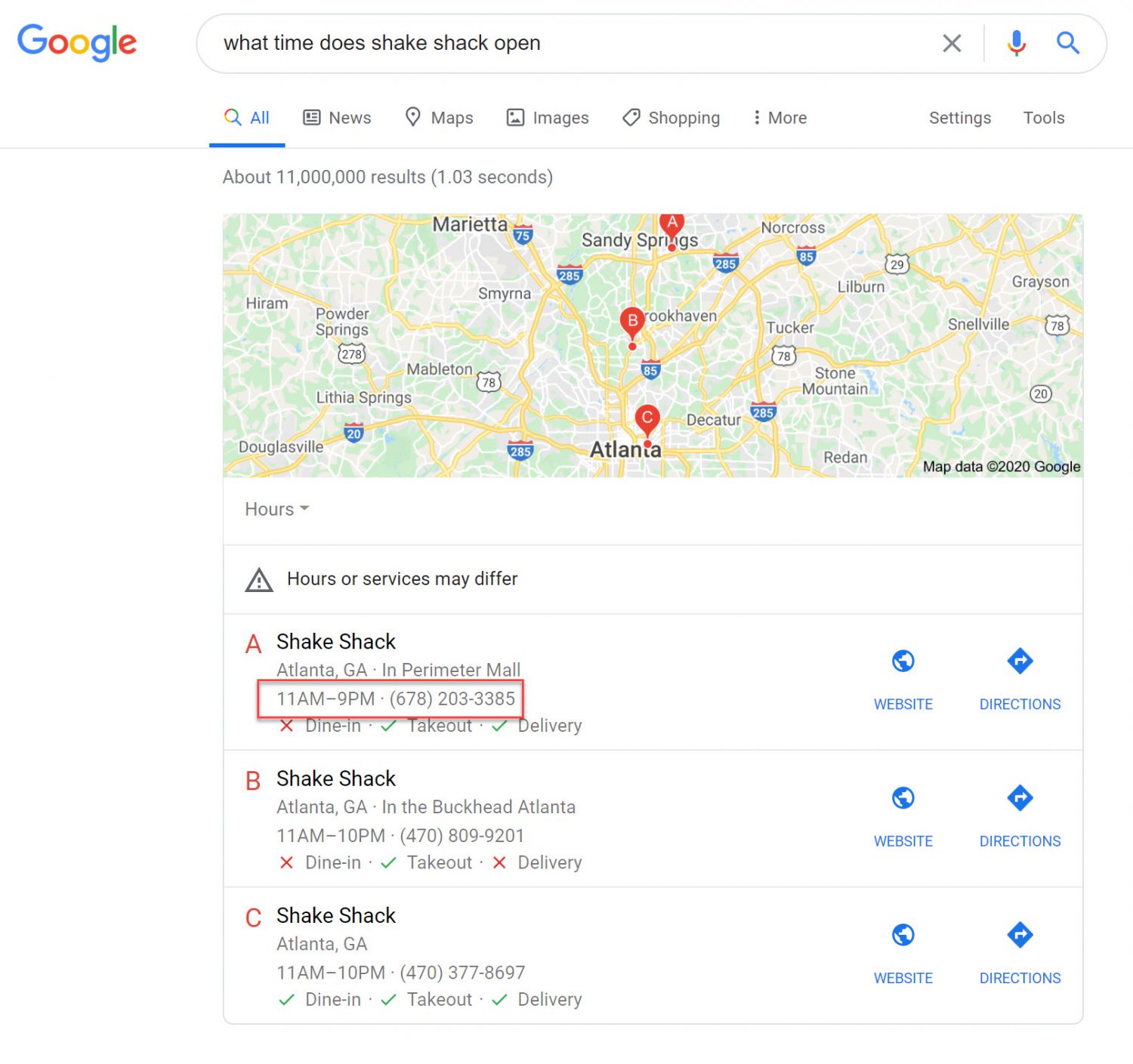 If you aren't thinking about Google this way you are missing out on thousands of valuable searches relevant to your business. A June 2019 study found that 50% of the searches completed on Google are "No Click Searches." In order to use Google as your homepage and to harness the power of the "No Click Search" you must understand how searchers are interacting with the Google SERP. This is especially important for local businesses and marketers as 43% of all searches have local search intent. In other words, what do your target customers do once they see your ad, Google My Business listing, Featured Snippet, organic search result, etc.?
The Key To Understanding Consumer Behavior On Google Is To Understand Search Intent
There are 3 basic types of consumer search intent: 
Search to Research

Search to Compare

Search to Purchase
You can break down these intent types further, but nearly all searches on Google (or any search engine) are going to fall into one of these three basic categories.
Search To Research
Common SERP Features: Featured Snippets, News, Image Search, Knowledge Panel, People Also Ask
Someone completing a "Search to Research" query could be looking for a solution to a problem they have or trying to find out more information about a topic they are interested in. These questions are usually nonspecific and will narrow as the user gets closer to their desired answer. A majority of these searches fall in the top section of the sales funnel. Some examples would be questions like:
How do I run 100 miles?

Why do you change your car oil?

Why is the sky blue?
In some cases, the end goal of the "Search to Research" type search is simply research. Once the searcher has found the piece of knowledge they are seeking they will exit the sales funnel.
Let's imagine we have a consumer who is looking for the answer to the question "How do I run 100 miles?" Below is what the searcher would see if he was searching from Atlanta, GA. He may find the answer he is looking for by watching the REI video in the Featured Snippet or by opening the People Also Ask section of the Google SERP. Satisfied with the answer he finds here (running 100 miles consecutively isn't for everyone) may leave the SERP without traveling to a webpage with a "No Click Search." Or the runner may navigate to YouTube or read the guide on RedBull.com to learn more about training to run 100 miles.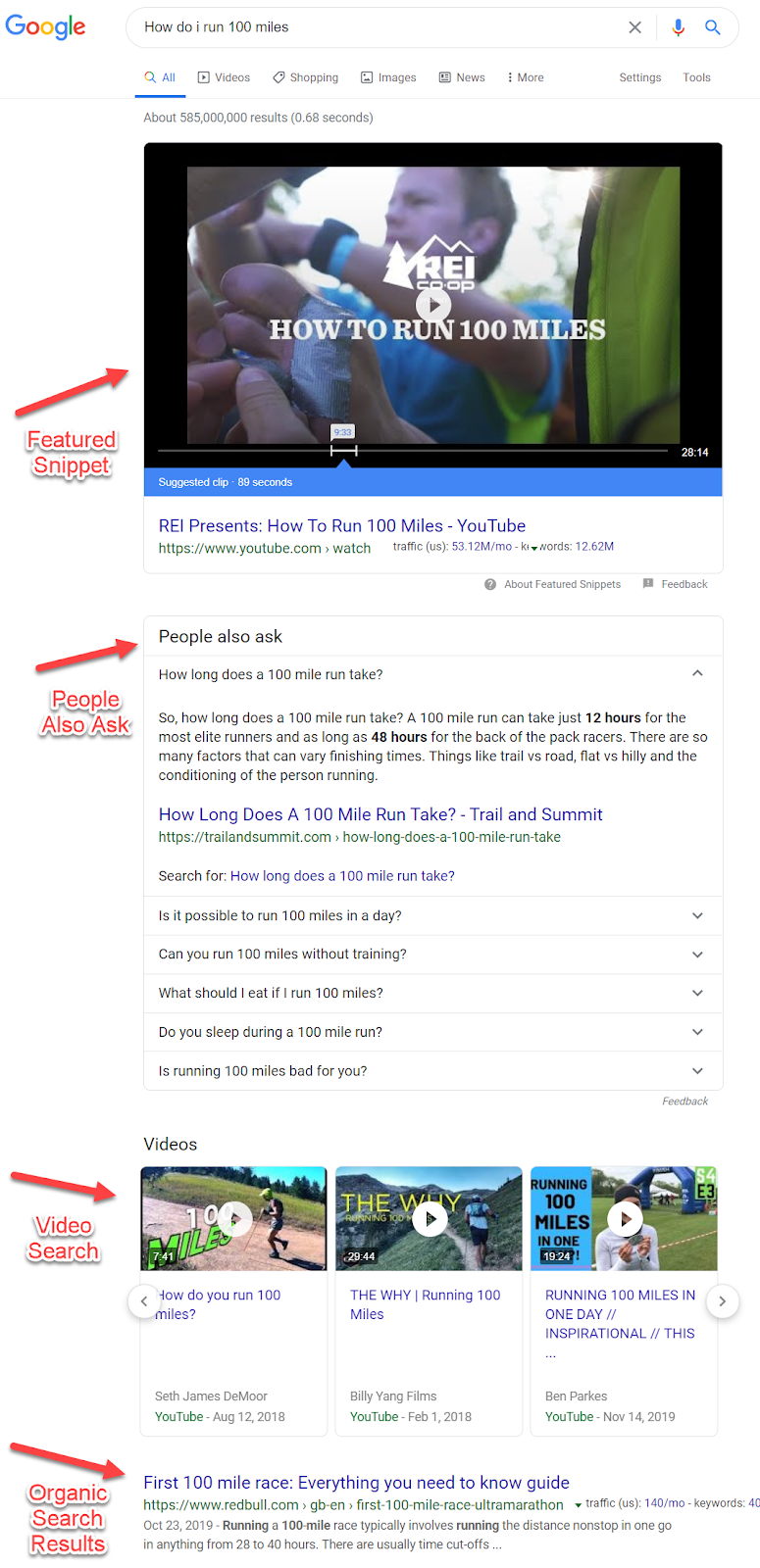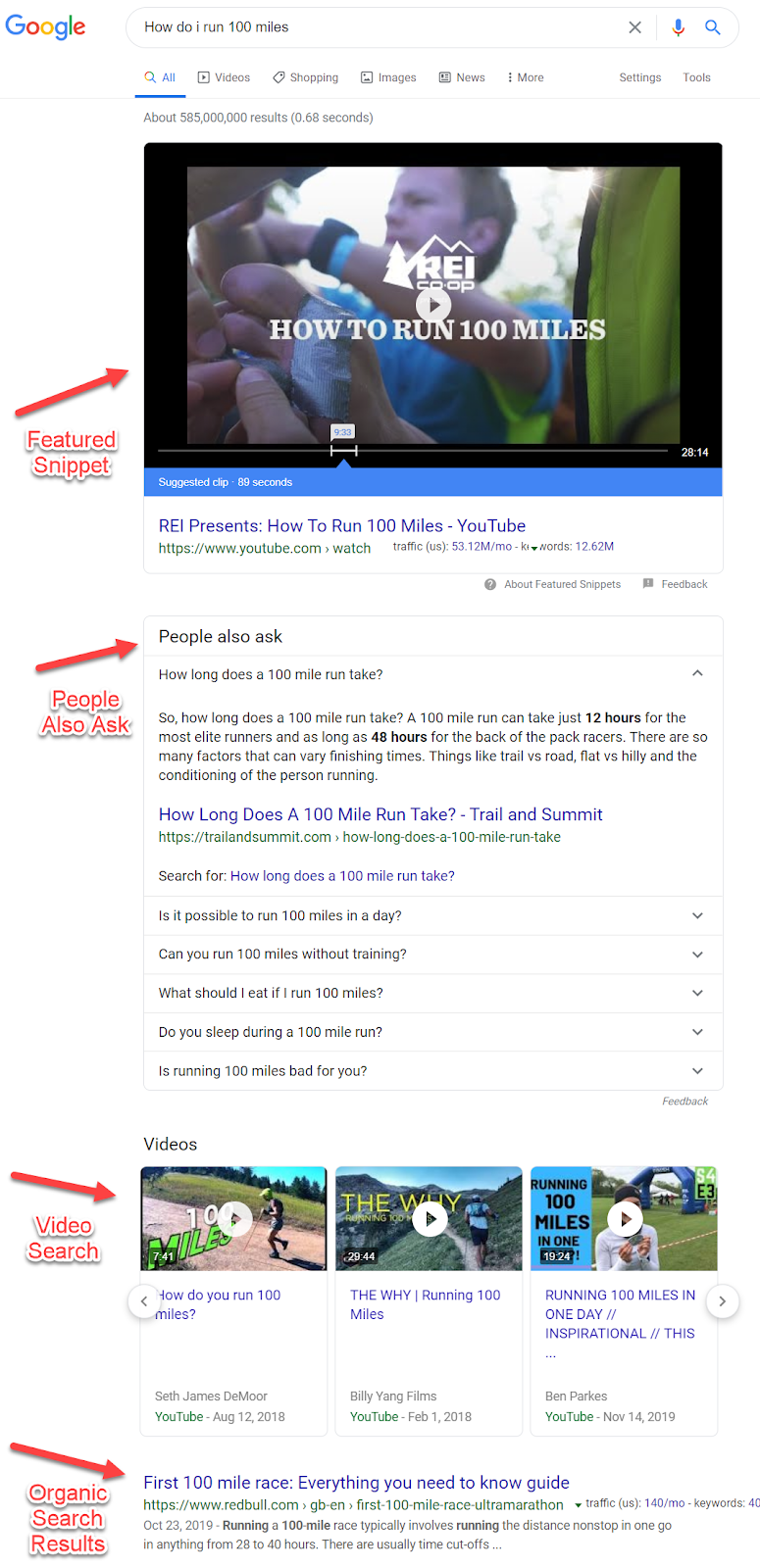 In the process of researching the topics, consumers' research searches will probably narrow to things like:
How do I prepare to run long distances?

What gear do I need to run 100 miles?

Do you need special shoes to run 100 miles?
Search To Compare
Common SERP Features: Google Search Ads, Featured Snippets, Video Search, Image Search, Google Shopping, People Also Ask
These searches indicate that a consumer is in the middle of the bottom of the sales funnel. In most cases, the consumer is either deciding whether a purchase is necessary or they are trying to pick between different categories. These questions maybe something like:
What are the different types of running shoes?

What types of sun protection is best for fair skin?

How hard is it to change your oil?
Our runner above has decided that he's going to give his ambitious running project a go. He has done enough research to know that he needs some solid running shoes (and probably a few pairs) to make this run happen. Now he needs to know what kind of shoes to purchase. Let's look at the search engine results for "What types of running shoes are best for long-distance runs?" 
Google will show ads based on how far they perceive our consumer to be in the sales funnel. Here our aspiring running may click on the ad for jackrabbit.com to understand neutral vs. stability running. He may get the answer he is looking for from the Featured Snippet (there's that "No Click Search" again), and exit the funnel briefly or forever to figure out what the heck mild pronators are. Or, he'll click on the organic result on how to find the right running shoe.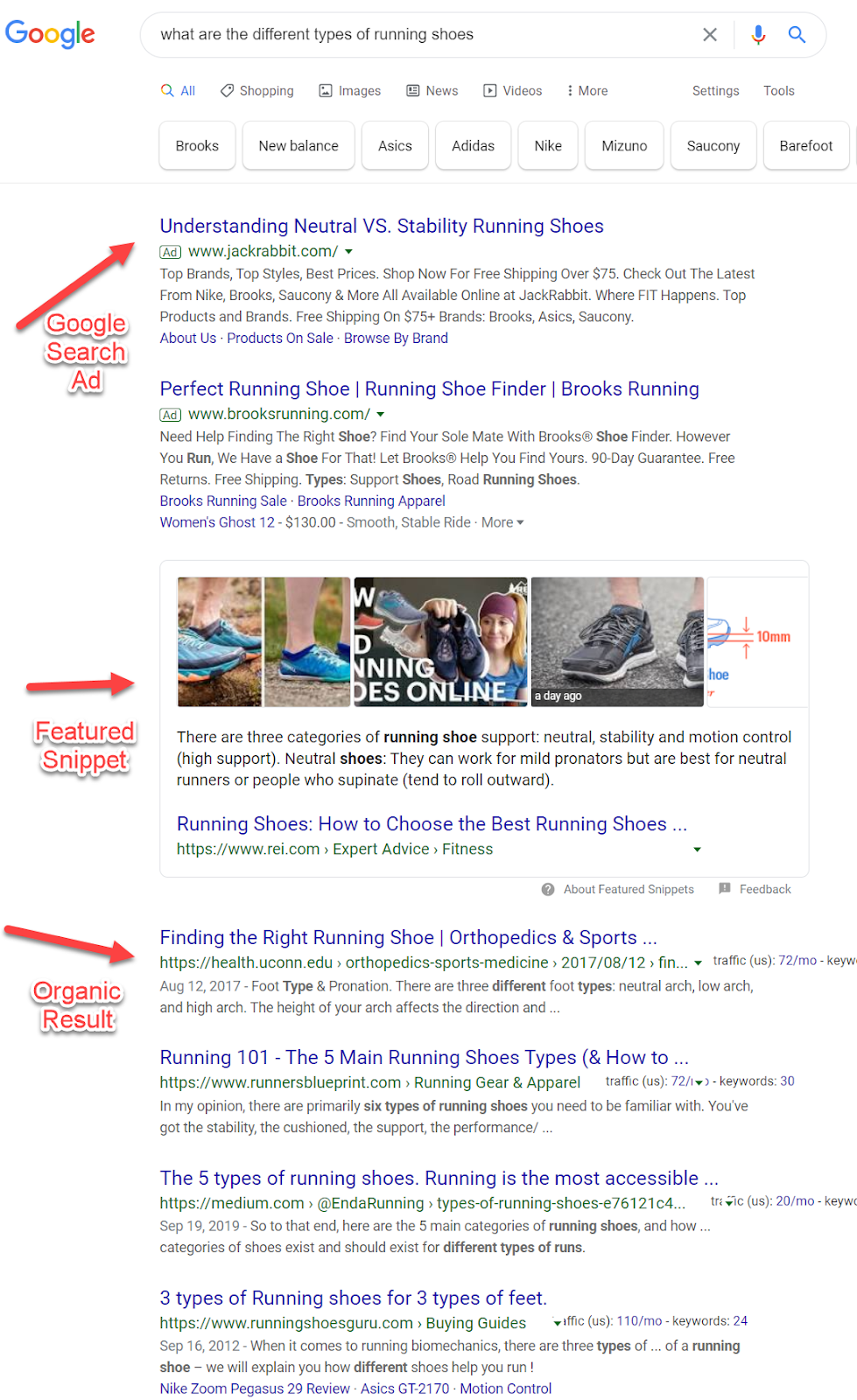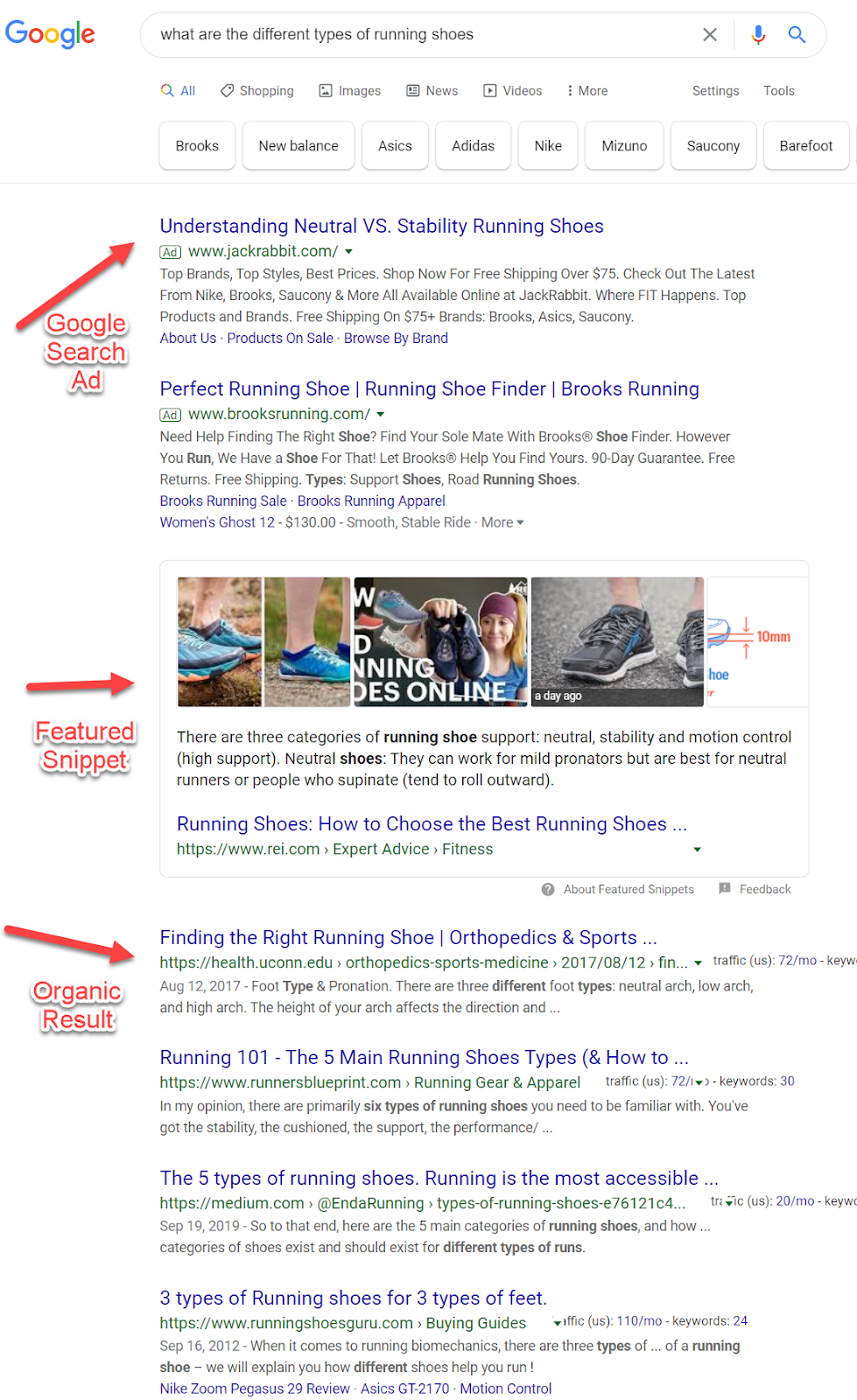 Search To Purchase
Common SERP Features: Google Search Ads, Local Pack, Knowledge Panel, Google Shopping
For this search type, the consumer has decided that they are probably going to purchase something (when or if they have the funds). These searches are often where, when, how, and how much they will spend when this purchase is made. This is the point where local Search Campaigns and SEO become extremely important to the success of your business online. Some examples of these searches may be:
How much does a synthetic oil change cost?

What time does Sunglass Cabana open?

Running speciality store near me
Our runner has successfully discovered that he is a true underpronator. He even did some research on what shoes are best for his gait, but wants an expert opinion. He searches for "Running specialty store near me." Here he has tons of options, including a "No Click Search" that could lead to a purchase. 
He can click the ad at the top of the page to check out the Newsole Running advertisement. He can interact with the Local Pack, and figure out what store is closest to him. If he knows where a store is he could drive directly to it, get directions through Google Maps, or call from the Google My Business listing (these are all "No Click Conversions!") and never leave Google SERP. In the organic results, he can browse forums, listing websites like YELP, and business websites. At this point in the funnel, solid local Google Search and SEO campaigns can put your business in front of this runner in 4 different places on the SERP.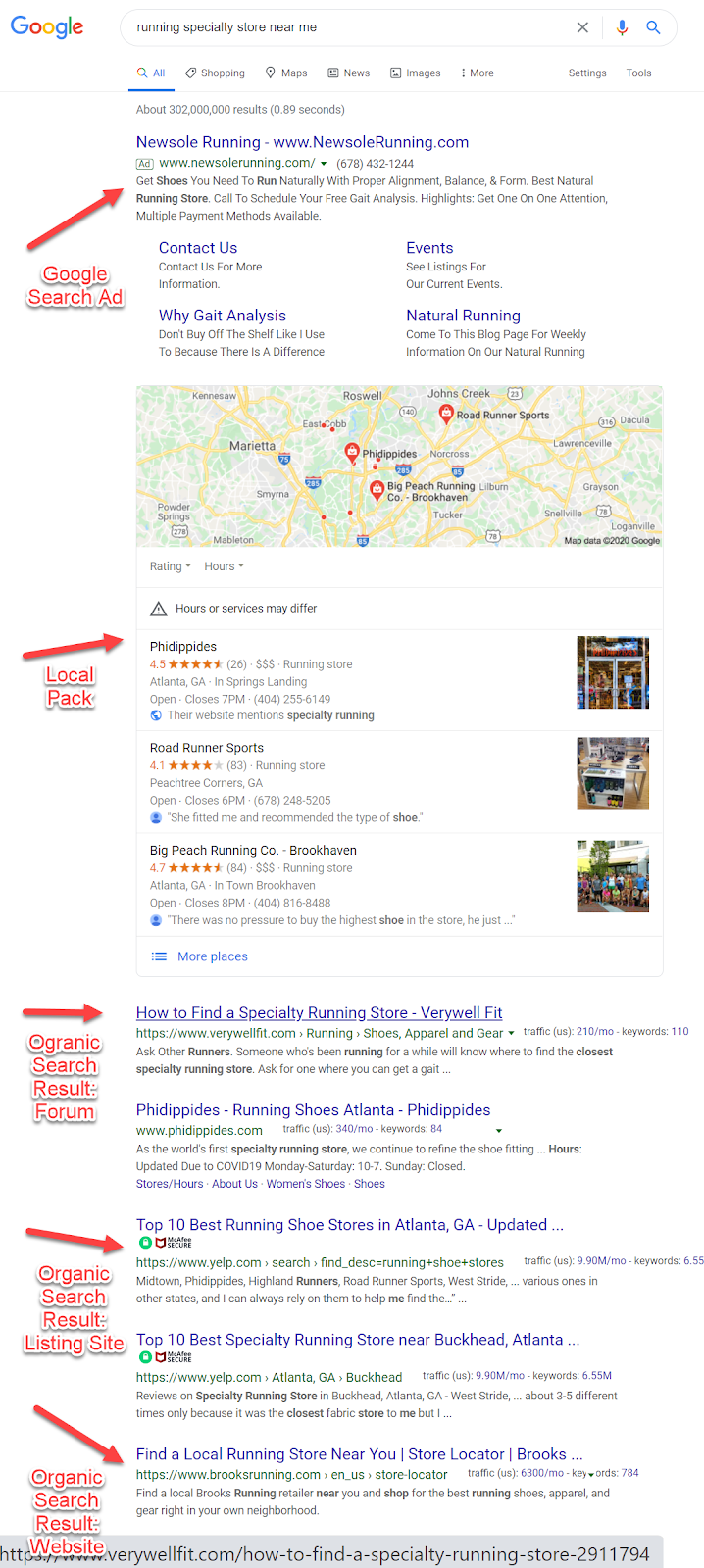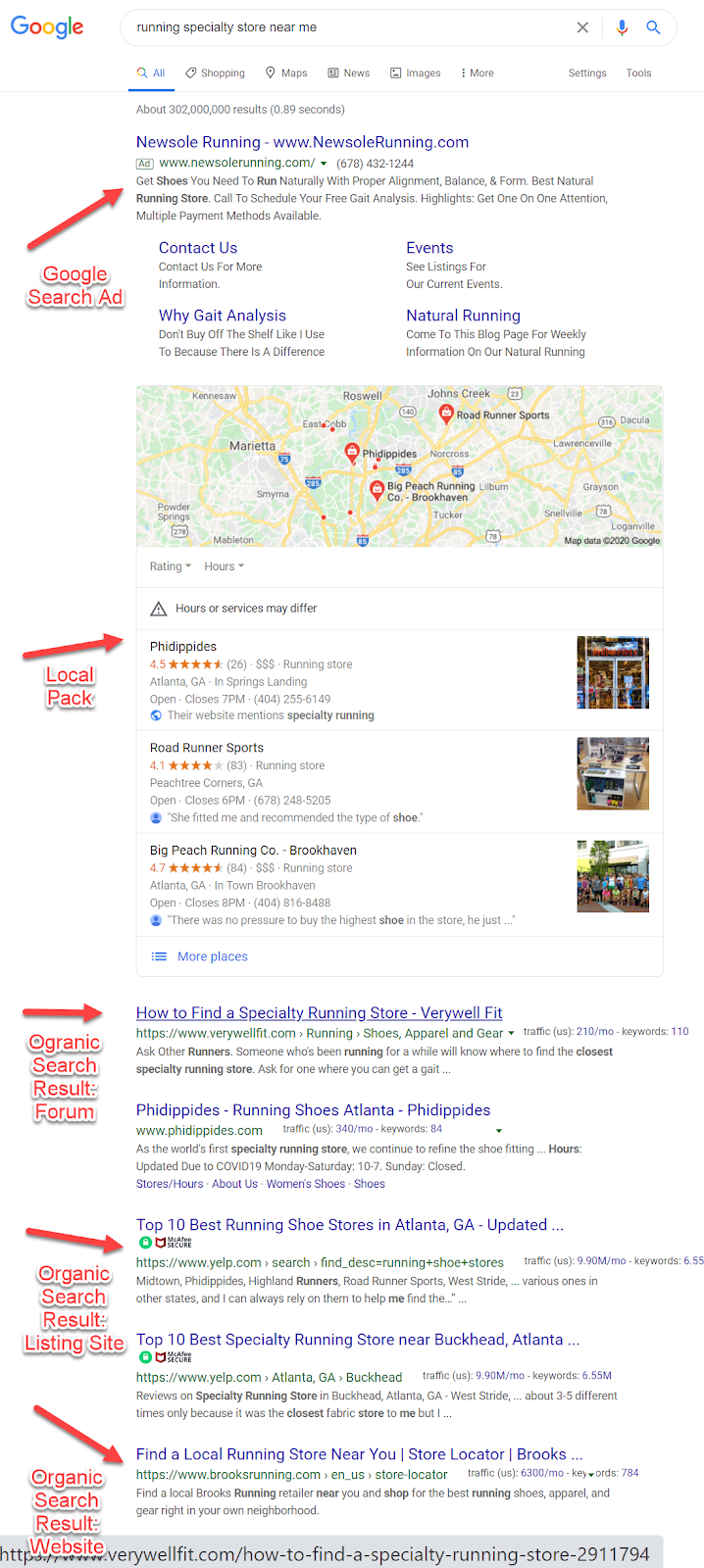 Using Google As Your Homepage
Now that you understand what type of results are generated and how customers interact with the SERP with different types of intent, you can provide them with content that speaks to their intent, and harness the power of using Google as your homepage. There are several Practical ways to do this:
1. Use Google My Business
Google My Business is the most powerful tool you can use on Google, and it's free! Most "No Click Conversions" take place on your Google My Business listing. If your business listing is optimized with the information your customers are looking for and you interact with your customers frequently, Google will show your listing more frequently and higher on the page when costumes are near your business.
Here are a few key features you should be utilizing on your listing:
Name, address, phone number, business hours, special hours for holidays

Fill out your business description with words customers would type into a search engine to find your business

Add quality photos of your business (interior, exterior, products, events, etc.)

Respond to customer reviews and questions added by customers

Use the Post feature frequently with business specials and updates
2. Be Sure Answers To Common Questions Are On Your Website
If you know that your customers are looking for specific information about your business be sure this content is on your website. Done correctly, this content will be eligible to show up in the Knowledge Panel, Featured Snippets, Image and Video Search, and People Also Ask features of the Google SERP.
A good example of this is the REI video in the "Search to Research" example above. Seeing a video like this on the SERP not only funnels potential customers to your website but also cultivates trust in your brand. Your customers will recognize your brand as a trusted resource on a topic.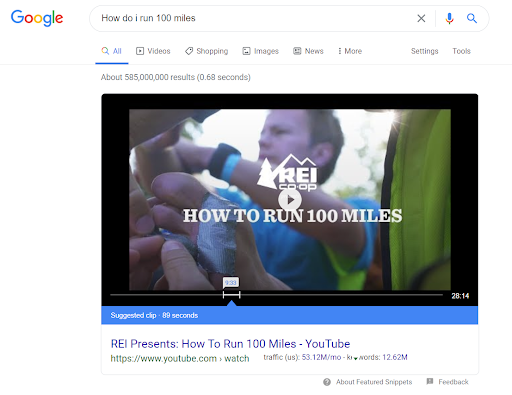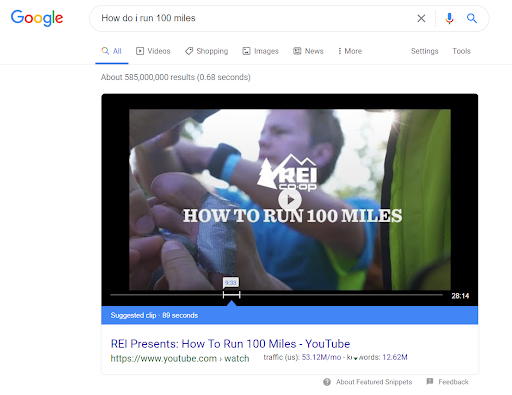 3. Utilize Your Ad Content
When running paid search ads, make sure your headlines are answering the user's question; you'll want to customize your ad copy to speak to their intent. Also, be sure to target keywords that either target someone who is clearly far down the sales funnel or otherwise shows clear purchase intent. 
If, for example, a user is trying to compare running shoes, be sure your ad result speaks to this by telling the user about what shoes they can expect to be compared on your site. Just be sure that the search they make not only matches the ad copy but that your website's content provides them with what they're looking for.
If you're trying to find users with the intent to purchase, be sure to target phrases like "near me," (running shoes near me), "company" (running shoes company), and "service" (running shoe fitting service). Just be sure your ad is targeting the right geographic area, one in which the user would be willing to travel to your store's location to make the purchase.

You can see both search intents – to compare and to purchase – and how the ads speak to each of these user goals in the results below:
Search Intent: Search to Compare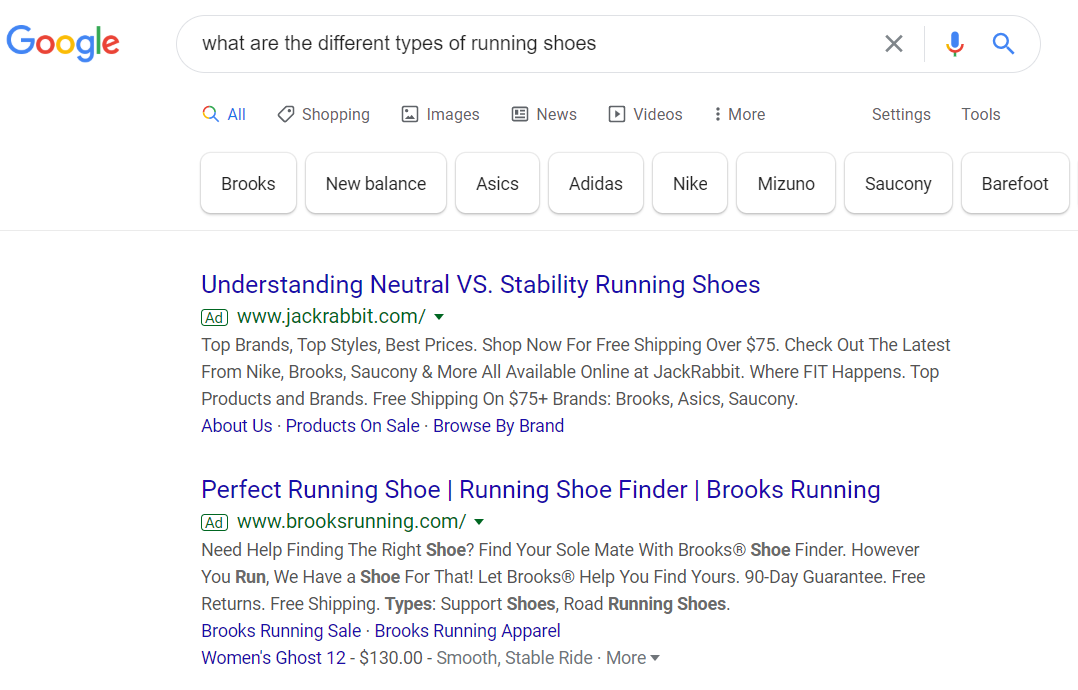 Search Intent: Search to Purchase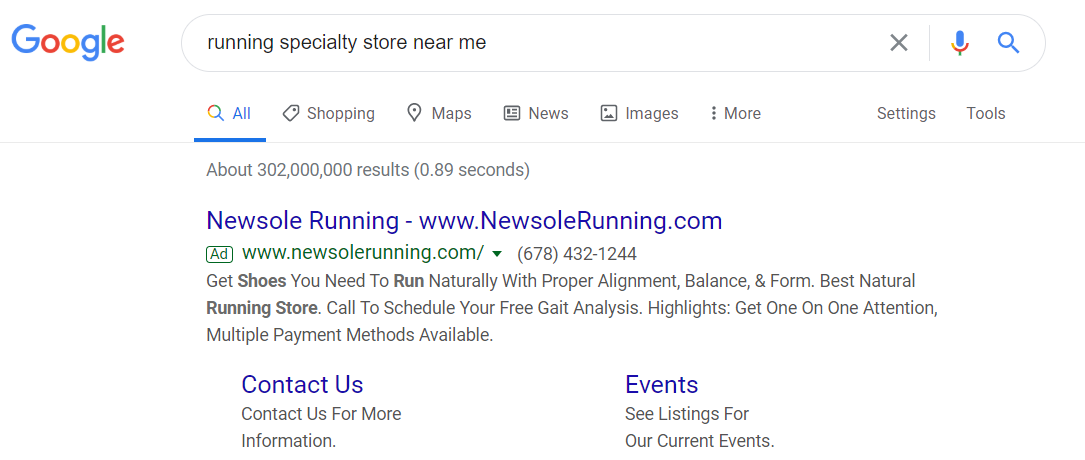 In the Search to Compare, the advertiser for the first result is answering what "different types of running shoes" there are out there and hopefully funneling the searcher to the website to get more information. For the Search to Purchase example, the first advertiser uses the ad headline to provide their brand name, letting the user know that their shoe store is within purchasing distance. Furthermore, the Sitelinks below the ad give users more information through opportunities to contact the store and learn about their events. Both of the advertisements are answering the intent of the searcher and they are improving the likelihood that they will be clicked on.
By utilizing your ad content to speak to the intent of searchers you can improve your click-through rates (CTR) and stand out on the SERP. 
What Does This Mean For Local Marketing?
Local marketing primarily comes into play in the last type of search intent, "Search to Purchase". Using geographic modifiers and regional descriptive words on your Google My Business listing, in your ad copy, and on your website will help customize your appearance on the SERP. Using phrases like "Atlanta best sporting goods store" or "Gait Test in Brookhaven" will make you eligible to show at the top of searches in your area and capture "No Click Searches" that you may be missing out on.
Utilizing Google as your homepage locally comes down to understanding what information your target customers are searching for. Once you understand this, simply answer their questions with a local mindset in the places they are looking for answers. Done properly, customers will naturally trust and gravitate toward your business.