Google My Business is evolving. In this article, we will review all the new features implemented at the end of 2021.
You may have already heard about it, but Google My Business is changing its name to Google Business Profile. This name change goes along with several developments both in the layout of Google Business Profiles in the Google results page and the interface for managing your profile.
New local pack layout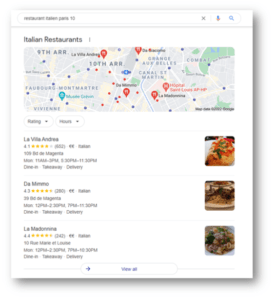 When a user does local research on the Google search engine, the local pack appears at the top of the page. This consists of a map above 2 to 3 Google My Business results or rather 2 to 3 Google Business Profiles.
In terms of layout, there is no drastic change but mainly some design improvements. The results are no longer framed but separated with a simple line and the button "other addresses" becomes "View all". Also, the filters "Rating" and "Hours" are more visible thanks to their rounded outline.
The changes are much more important from the profile administrator point of view than from the internet user point of view.
Google Business Profile update
This name change involves many modifications regarding how to manage profiles. Now profiles are managed directly from the Google page results. It is no longer necessary to go to the Google My Business account to edit and update the profile.
Everything can be done directly from the Google page. Let's try it together: search for your business in the search bar of the engine either by putting "my business" or by putting the name of the company.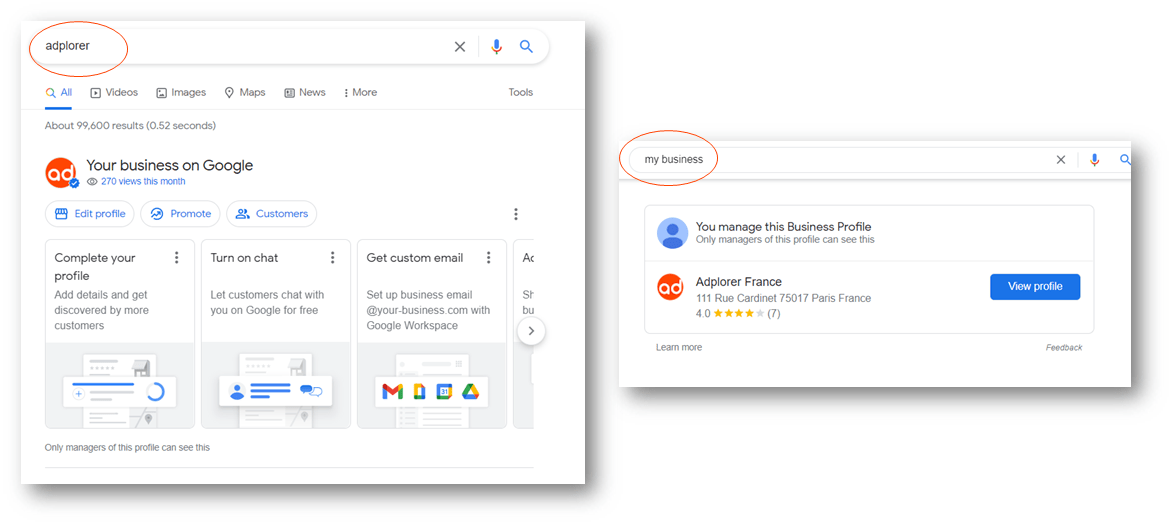 As the administrator of your business, you can now :
Complete your profile (by clicking on this feature the profile administrator is redirected to the Google Business Manager).
Activate the chat to discuss with customers (this feature is free).
Get new reviews by sharing the link to your customers (Google provides this link to encourage them to leave a review).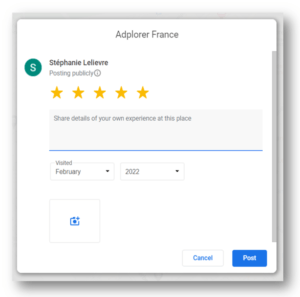 Post news about your company (if you want to better understand how posts work, check out our article on the topic).
Add pictures (photos are very important from a customer point of view obviously). Actually, for some sectors a photo is displayed on the local pack.
The objective of Google is of course to simplify the use of Google Business Profile and especially the update of profiles. Google's goal is always to respond as accurately as possible to users' requests. By simplifying the updating process, Google aims to offer the user complete and relevant information, but also more attractive with more photos. Administrators no longer have an excuse for not updating their profiles or proposing incomplete profiles. This new presentation is simple, intuitive, and makes all the features visible, to use a Google Business Profile at 100% of its capabilities.