In this article, I will talk about:
Why LSAs? To Build Trust
In 2015, Google rolled out its novice Local Service Ads, called "Home Service Ads" at the time. Since then, it's taken on many names – including Google Guaranteed Ads, Google Local Service (abbreviated as GLS), or, as some of our clients like to say, "local search ads." For the sake of this article, I will stick to "Local Service Ads" as the nomenclature.
Whatever you want to call it, these ads have local businesses scrambling to get in on the fun, because the benefits are enormous. For one thing, your ad shows at the top of the Search Engine Results Page (SERP), where local businesses receive 13.8% of all SERP clicks. For another, you only pay for leads. That's right, you heard me correctly – you only pay when a person calls or messages your business, instead of paying for clicks. However, while this may sound so good that you want to do away with PPC altogether, our data shows you can get more leads doing both, your cost-per-lead will remain fairly similar, and your ROI may stay more or less the same. But more on that later. For now, you just need to know that the biggest benefit of LSAs comes down to trust.
I'll illustrate with an example. Let's say Kelsey the Key Forgetter has locked herself out of her car once again. It's late at night, and maybe she's not in the best area of the city. Now, if she's looking for a locksmith, she's going to want to find someone she knows she can trust. After all, a stranger is coming to meet her in the middle of the night. So, she googles "Locksmith near me."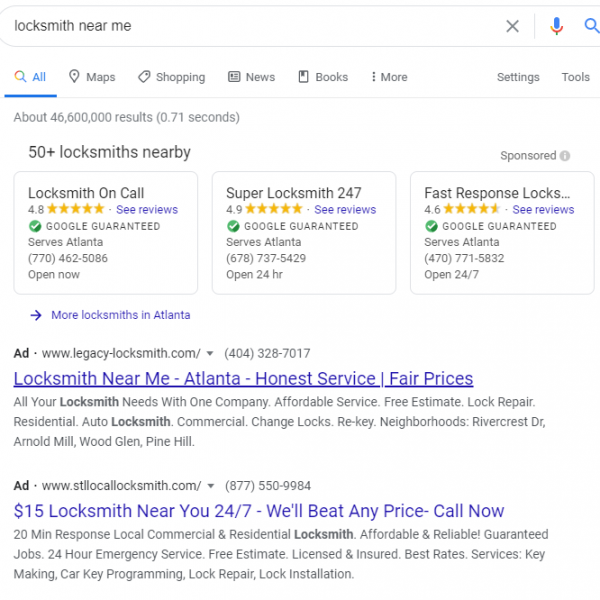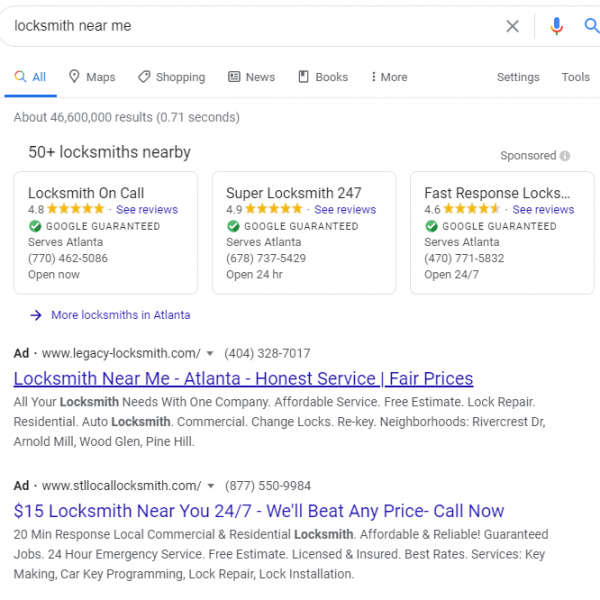 Who is she going to trust? The ads with 4.6 – 4.9 stars that are guaranteed by google to be a legitimate business? Or is she going to take a gamble on the ads below, without any kind of guarantee about who they are or what qualifications they have? She needs help now, too. So she can't afford to waste her time on a website. In situations like these, the advantages of LSAs become quite obvious: by guaranteeing the business is legitimate, potential clients will feel more comfortable with letting a locksmith, or handyman, or carpet cleaner into their car or home.
Before We Move On
Before we move on, stop and read this first. Since Local Service Ads are all about trust and legitimizing certain businesses, they are only available for certain kinds of industries and in certain cities or areas of the country. If you're an agency who wants to run this for your client, check to make sure your client meets these two requirements before moving forward: Local Service Ads – Available Industries & Markets
As you can see already, the barrier to entry in this market is much higher than PPC, and that will only become clearer as we move forward in the setup process. So, this is another factor you will want to weigh out before getting started.
How to Get Started
The first thing you'll need to do is check your eligibility with Google. Once you confirm that you are eligible to run these ads, you'll want to set up your accounts. You can do so by following the steps below.
1. Create a New Account
Once you reach the LSA dashboard (at ads.google.com/localservices), you will click on the menu to select "Managed accounts," and then you'll hit the + button to add a new account. Easy enough, right?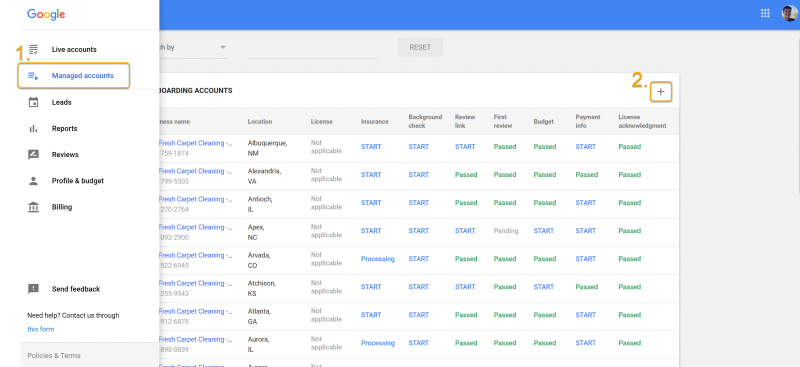 Next, you will choose if this is for a brand new account, or if you want to run these ads for an existing account in your Google Ads MCC. If it's for a brand new account, this step will create a new Google Ads account for you. If not, you will enter the Google Ads CID to connect it to your existing account.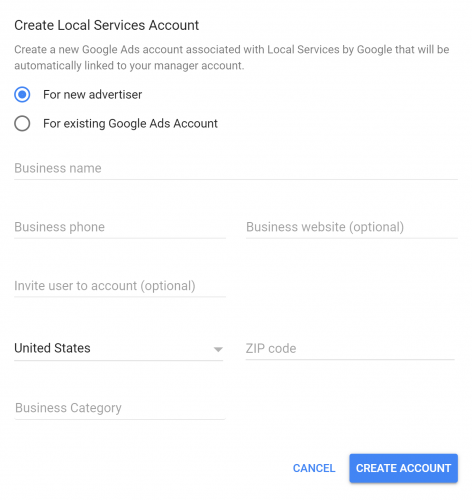 Once the account is created, you'll see a screen like this:
Your next steps are to:
Create your business profile
Set your budget and enter payment info
Add a valid copy of business insurance
Complete a background check
Launch
2. Create Your Business Profile
The business profile is the page that your LSA ads lead to. It's sort of like a Google My Business page – it's not your website, but a page that lives in Google where advertisers can give their customers relevant information to their business. See below: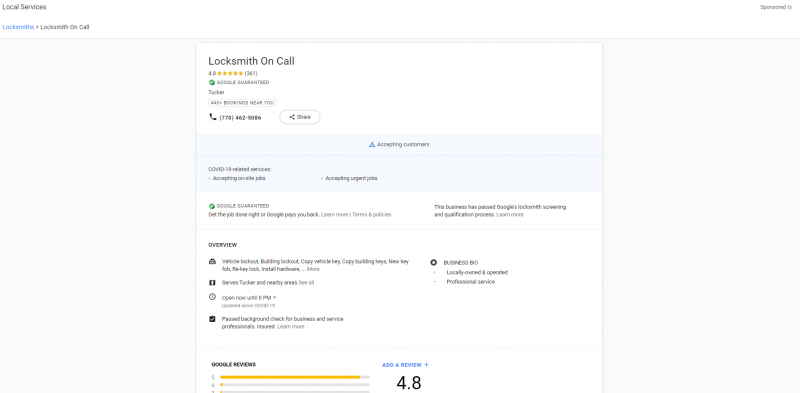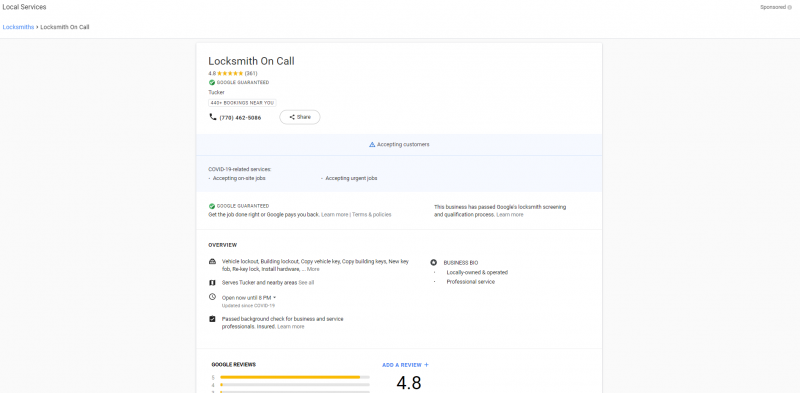 On this page, you will define:
Any COVID-19 updates to your business (like virtual appointments, health and safety precautions, etc.)
Your business bio – Google will provide a set of canned options you can select from, like "Locally owned & operated," "1 year in business," "Free estimate," "Professional Service," etc. You will select 6 of these that you feel best matches your business. Unfortunately, you cannot create the text yourself; Google controls it.
You will put in your business hours and select an ad schedule
You will put in your weekly budget (more on this later)
You will select the services you offer. Again, these are default selections by Google. For example, with our carpet cleaning client, they can display the following services:

Clean area rugs
Clean carpet
Clean drapes & curtains
Clean upholstery
Other
Remove pet stains & Odors

You can add photos to spruce up the business profile, like cover photos, logos, projects, your workplace, your equipment and vehicles, your team, etc.
You can turn on/off message leads. This means that people can message your business through the business profile directly. But be careful, if you are not responsive to these messages, Google will show your ad less often!
You will select the areas your client services.
3. Enter Your Budget & Payment Info
You will set a weekly budget, and Google will estimate the maximum you'll spend for the month. Similar to Google Ads, you may go slightly over or under the budget for the month. Google also provides an estimate of leads you can expect for each budget. This is not a number you can manipulate yourself, but rather, an expectation, Cost per Leads vary anywhere from $12-$30 depending on your industry. Here's what it looks like:

Further, you are not billed through the LSA dashboard. You are billed through the Google Ads account that was either created or connected in step 1. So, for whichever account is selected in Google, you will want to put in your credit card info or payments profile, just like normal.
4. Submit Your Copy of Insurance
Here, you will upload a pdf of your Copy of Insurance. All you (or your client) need to do is ask your business insurance provider for this doc, which they can typically send over in a relatively short period of time (1-2 days). Once this is done, simply put in an expiration date and it's ready to go!

5. Complete a Background Check
Lastly, you will complete your background check with Evident.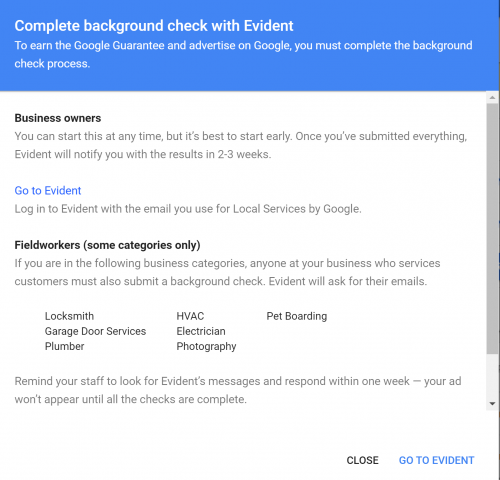 This is the lengthiest piece of the process, and it can take anywhere from 1-6 weeks! However, if you are working within a multi-location business or franchise business, you may be able to skirt around this step. For our carpet cleaning franchise client, Oxi Fresh, we were able to cut out this extra step for each location. Since their corporate background check was already approved, all of their locations' background checks were also approved by default. So, the rules are not always so stringent! Once you get a Google LSA rep, you can work out the details like this and see if there is any leeway in making this process easier.
How to Scale
For our Oxi Fresh client, the local service ads were the perfect solution for them. Once they found they were eligible, they went ahead and started launching their campaigns. For each individual location, they found that this process was actually quite easy. Although they had to wait for certain things to be completed, such as the copy of insurance or their background check, it took maybe a couple of hours of setup time at the most. It wasn't the quickest process from start to finish, but with only a few people running these ads, the extra hoops weren't a problem.
However, as more and more franchisees expressed interest in launching LSA campaigns, managing the process became a nightmare. With multiple locations at different points in the setup process, it became very difficult to manage many setups at scale. So, that's where we came in.
Step 1: Organizing the Process
If you're an agency working with a big client who wants to scale Local Service Ads, chances are you'll have to coordinate the work between multiple people within your agency and with your client as well. If your client wants to run hundreds of these campaigns, you'll need a solid process to do this; otherwise, you'll lose your mind!
So, we took a couple of weeks to map out how this process would work. The very first step was to get everything organized. We worked with our client to do the following:
Create a list of "shell" accounts in Google ads. This made the billing setup process super easy, as we could simply connect a Google Ads CID with any account in the LSA dashboard. Whenever a billing setup must take place, all we do is set up the Google account on our payments profile, and we are done!
Create a detailed excel doc with pertinent information. 

This step is huge, as it helps you keep track of all the active locations, which ones are still in the setup process, and which ones haven't expressed interest yet.
Be sure to include pertinent information in this doc, like the businesses' phone numbers, addresses, service territories, hours of operation, and any other information you have available in bulk already. This makes the setup process much easier, as you don't have to scour all of your documents and emails to find this info – it's already all in one place.
 Even better, if you have a software platform like Adplorer, it becomes very easy to store and manage all of this information in one place, as our software lets us see things like which orders are active or in preparation, what their budgets are, what documents have been uploaded or still need to be uploaded, along with pertinent client information, reporting, and custom notes.

Now, you'll want to organize a clear and easy-to-follow setup process. Here's how we did ours.
Step 2: The Process
Intro Call & Follow Up
Our sales agents were responsible for calling the franchisees to see who was interested in running this program. Being experts in how LSAs work, our agents are easily able to answer questions any franchisees have about the process. So, it's important to make sure your sales agents are well-versed in the benefits of LSAs and how they work. After we educated the franchisee on the benefits of the program, the franchisee might say yes to our service. Then, we would send out an email that explains:
How the franchisee can complete the background check
How the franchisee can get a valid copy of business insurance and where they should send it to. Ideally, you would have this franchisee or small business owner send the copy of insurance to your operations person setting up the campaigns.
Confirmation
Now that the franchisee or small business owner responds that they've completed the background check and the copy of insurance is on its way, what's next?
In the Excel doc you've already set up, or perhaps a platform like Adplorer, make a note of which elements are so far completed, or which ones you are still waiting on:
Background Check
Copy of Insurance
Business Profile Information
Business Profile Information
Next, you'll want to gather relevant information for setting up the LSA business profile. To simplify this process, we sent out a Google Form to each franchisee, in which they could:
Select the 6 options for the Business Bio
Select the services they want to run
Select if they wanted to run Google's recommended budget, or do their own custom budget
Select the carpet cleaning deals they would like to run (in their own CRM)
Finally, we would log into the LSA dashboard, where we put in the following information:
Complete Home City, Phone Number, and Website (From Excel Doc)
Put in Ad Schedule (From Google Form)
Enter Weekly Budget (From Google Form)
Enter Job Types (From Google Form)
Add photos from photo drive*
Edit Service Areas (From Excel doc)
Turn off message leads (default setting)
Add Business Hours (From Excel Doc)
*Note – you will probably want a good place to store all of your brand's photos, so you can easily access them and upload them for each location.
Once this was all done, we were ready for launch! We simply notified our rep to start the campaigns, and they were live!
Step 3: Reporting
Google's LSA dashboard has some nifty reporting, but how would you scale these reports? After all, you probably don't want every one of your brand's locations to have access to one dashboard. For one, you will crowd the account with too many admins. For another, they will have access to everyone's data, and they might complain they aren't seeing the same results as another location. So, if only a few people can have access to this dashboard, how do your franchisees or individual business locations get the data?
You can set up another excel doc where you import the reports from the LSA dashboard and try to keep track of the data there. Or, you could link up the reports to a software platform like Adplorer. Here are the steps we followed to do that:
We had a specific number set up for calls coming through the LSA campaigns, so the call center knew which coupon code to use. Once this coupon code was entered into the CRM, the data was funneled into our software in the form of total Conversions and total Conversion Value from the jobs booked.
Next, we pulled the data from the LSA dashboard into our software, in which we accounted for the total Media Spend, the total Number of Calls, and the average Call Duration.
Below is an actual report from our Adplorer Dashboard: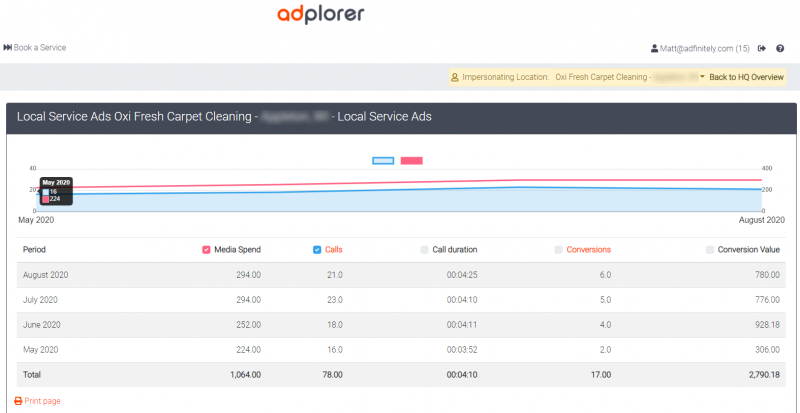 By pulling the coupon code conversions from the CRM and the media spend and calls from the LSA dashboard, we now had a one-stop place in which each franchisee could see his or her data and easily evaluate their ROI as well as compare their results to their other ad campaigns, like PPC.
The Results
We ran LSA campaigns as an add on service to our PPC campaigns for our Oxi Fresh client. In June and July, we had 10 locations running both PPC and LSA campaigns simultaneously. Below are the results from our marketing dashboard.
LSA Ads (June – July 2020)
| | | | |
| --- | --- | --- | --- |
| Location | Amount Spent | Revenue from Jobs Booked | Return On Investment Ratio |
| Location A | $546 | $1704 | 3.12 |
| Location B | $560 | $2196 | 3.92 |
| Location C | $510 | $1131 | 2.22 |
| Location D | $425 | $915 | 2.15 |
| Location E | $598 | $1396 | 2.33 |
| Location F | $552 | $1332 | 2.41 |
| Location G | $572 | $1488 | 2.60 |
| Location H | $650 | $1491 | 2.29 |
| Location I | $475 | $1120 | 2.36 |
| Location J | $154 | $179 | 1.16 |
| Total | $5042 | $12952 | 2.57 |
PPC Ads (June – July 2020)
| | | | |
| --- | --- | --- | --- |
| Location | Amount Spent | Revenue from Jobs Booked | Return On Investment Ratio |
| Location A | $622 | $1975 | 3.17 |
| Location B | $688 | $4624 | 6.72 |
| Location C | $743 | $5660 | 7.62 |
| Location D | $411 | $309 | 0.75 |
| Location E | $335 | $286 | 0.85 |
| Location F | $245 | $123 | 0.50 |
| Location G | $1276 | $3077 | 2.60 |
| Location H | $1009 | $3258 | 3.23 |
| Location I | $908 | $554 | -0.61 |
| Location J | $413 | $857 | 2.07 |
| Total | $6652 | $20,724 | 3.12 |
Return On Investment (ROI)
On average, our PPC campaigns produced a 21% higher Return On Investment rate than our LSA campaigns. This means that for every marketing dollar spent, PPC campaigns yielded a 21% higher revenue amount than the LSA campaigns. Now, you may be tempted to say why even run LSA then? Why not only run PPC? Well, for one thing, there was less variance across the results of our LSA campaigns – they were more consistent in producing desirable results on average. So, for the PPC campaigns, you're taking more of a gamble. For another thing, you'll miss out on potential revenue by not running LSA.
The best strategy is to run both PPC and LSA campaigns. By running both, you have more total Search Capture – you will capture more people searching for your services than if you just ran one or the other. After all, 13.8% of SERP clicks go to LSA ads, while 14.1% go to PPC. Wouldn't you rather capture 28% of all searches, rather than just 13 or 14%?
In this 2 month period, our LSA campaigns pulled in $12,952 in carpet cleaning jobs booked, based off of $5042 in spend. In that same period, our PPC campaigns yielded $20,724 off of $6653 in media spend. So, while the PPC ROI was better, the LSA campaigns still pulled in a hefty share of revenue. The question is not which campaign type gets a better return rate, but rather, are you willing to leave $12,952 in revenue on the table? In the end, you are capturing more people who are searching for your service by getting the LSA clicks vs. PPC clicks only.
From Start to Finish
As you can see, LSA campaigns have clear advantages in both building trust with consumers and by showing up at the top of the search results page. However, they also have a higher barrier of entry into the market and are only available in select industries and locations. Further, we can see that the setup process is complicated, and it takes many steps that must be coordinated between many people for it to work. Additionally, this process becomes exponentially more complex when you scale it up across many SMB's or franchise locations.
However, if you or your client's business is eligible and you're able to design a solid setup process for many locations, the results can be enormous. Even though we've seen PPC yield a better ROI so far, the LSA campaigns are more consistent and give you the opportunity to capture thousands in extra revenue when run in tandem with PPC. In short, if you can manage the complex process of running LSAs for you or your clients from start to finish, you can provide value that's largely unmatched by a lot of people in the industry right now.