FR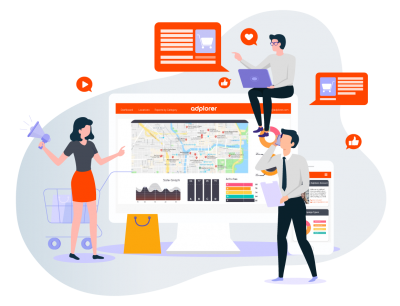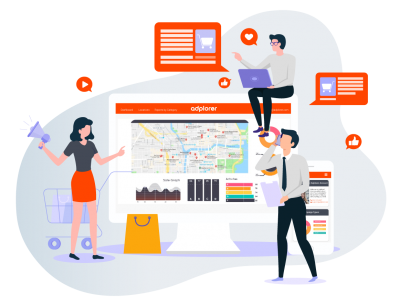 Local digital advertising is complicated to set up for businesses with multiple locations. For these types of businesses it is essential to invest in the marketing for each individual location. Today, Pay Per Click (PPC) management software dedicated to franchises or multi-location businesses make it possible to manage local marketing campaigns with this type of volume.
Why should networks advertise locally?
One major perk to being part of a national network of business is that the individual location benefits from a massive national marketing and brand strategy. Although the national strategy is great for brand awareness and online sales, without local marketing you are not engaging customers in your area at the moment they are performing a search for your products and services. 
A 2019 study from Social Media Today found that 46% of all searches on Google are seeking local information. Hitting customers with localized advertisements signals that you are a business nearby that can provide them with exactly what they are searching for. By appearing at the top of their search results with an answer to their question, there is no reason for them to search further.
Local advertising is the best way to funnel customers directly to your location. In fact, depending on your business maturity, location, climate, competition, products, etc., advertising campaigns can be personalized and budgets adapted to local trends.
How to manage local campaigns for many franchise locations?
The corporate office must support its location owners. Many local business owners are experts in their own field. Most do not know how to create online advertisements with the right messaging and optimize them to perform well in their territory. If each franchisee works with their own agency, this can be a great expense to the business owner. In addition, the top-level franchisor has no control over what advertisements are being put online, both in terms of content and marketing channel.
By working with a digital marketing platform dedicated to franchises and multi-location businesses, the top-level franchisor can work with a single agency to define all campaign channels available to the local business owner. These channels could include campaigns with Google ads (Search, Display, Youtube), Facebook, and Bing.
With Adplorer's ppc management software, business owners can log into the platform and activate the campaigns of their choice in their territory. They have the ability to decide what budget they want to spend on each campaign or let the software optimize where budget is distributed through a multi channel marketing campaign.
Boost the success of local businesses through ppc software.
Thanks to Adplorer's PPC management software, each franchisee will be able to appear on Google as the first search results in their business territory. Their ad copy will be personalized using his location details. Each franchisee will be able to easily communicate specials and events to a qualified audience. Some of these specials may include a grand opening, a local event, open houses, private sales, promotions, etc. This local messaging can be standardized by the corporate office to meet all brand standards and easily applied to local campaigns ad hoc.
Franchisees can follow all the results of their campaigns on Adplorer's local marketing platform. The corporate office will also have access to all the results and data to use in their own national marketing efforts. They can keep track of how each location is performing and communicate marketing best practices to the franchisees. This is a key element in motivating them to invest in local marketing for their business.
Use Adplorer's PPC Management Software
Adplorer's local marketing platform has helped many businesses manage successful advertising campaigns. If you would like to learn more about the Adplorer PPC management platform and its capabilities fill out a form on our website and tell us more about your current local marketing.