As a multinational company managing advertising for thousands of businesses across Europe and North America, our team at Adplorer has been monitoring the impact of COVID-19 on search volume for advertisements across all of our clients' campaigns. In this study, we specifically investigated the impact on search volume in the United States, Germany, France, Belgium, Austria, and Switzerland, and graphed the Local Search Volume Index (LSVI) against the published number of cases of COVID-19 (Source: worldometer) per 10 million person unit of each country's population. 
Case Study on Search Behavior in Response to COVID-19
This Local Search Volume Index (LSVI) is calculated by comparing the total number of available impressions across all Google Search Ad campaigns that have remained active during the pandemic to the total number of available impressions on January 1st of 2020 for each country for those same campaigns. These 4718 campaigns span across more than 500 industries and represent a significant sample of local marketing campaigns. Comparing this LSVI to the number of active COVID-19 cases per 10 million, allows us to observe the changes in consumer search activity in correlation with the perceived threat or recovery of the population of each country. 
Our data specifically shows that, generally across these six countries, once the acceleration of new COVID-19 cases begins to slow, the searches lost with the onset of the spread of the virus begin to recover. Austria, Switzerland, and Germany, having already experienced the brunt of the virus, have seen cases trending down for several weeks.
European Countries on Their Way to Recovery
Austria's COVID-19 cases peaked at 104 reported cases per 10 million population unit around the 3rd of April, and their Local Search Volume Index began to rebound on the 5th of April only a few days later. As of April 23rd, Austria has recovered more than ¾ the search volume that it lost over the initial period during the rise in COVID-19 cases within their country.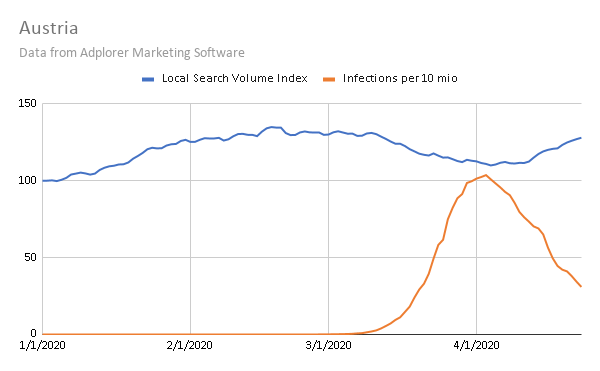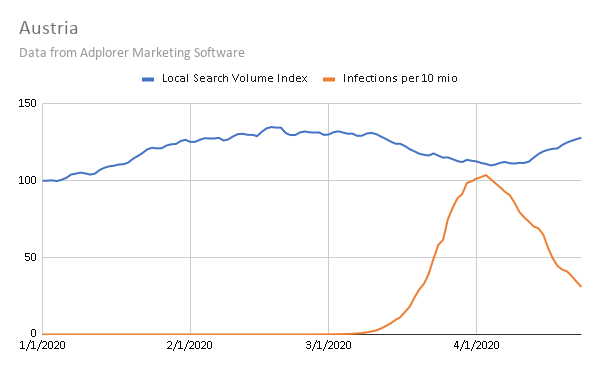 Data from Switzerland shows a similar pattern. The total number of available impressions only dropped about 17% from its peak compared to Austria's 19%, despite the fact that they had a much higher reported infection rate, peaking at 325 infections per 10 million population unit compared to Austria's 104. After Switzerland's peak in COVID-19 cases around March 31st, the Local Search Volume Index hit a low on April 10th and has rebounded about 30% as of April 23rd.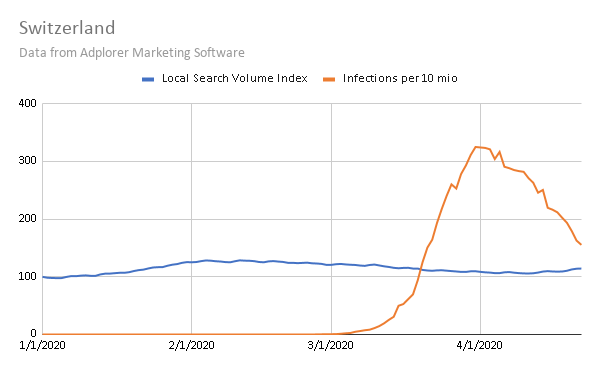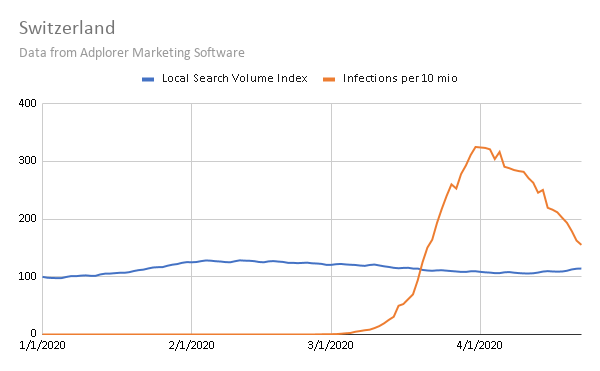 Germany, having a much larger population than Switzerland and Austria, had the lowest peak cases reported 87 per 10 million population units on April 6th. Their Search Volume Index was down about 32% at its lowest point and has since rebounded to about 64% of its peak LSVI. The rebound in search volume began about 7 days after the reported peak of cases.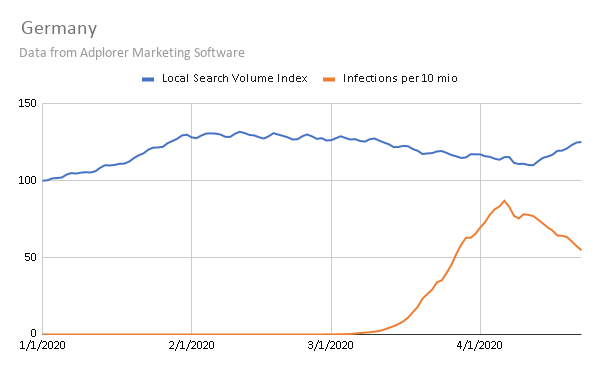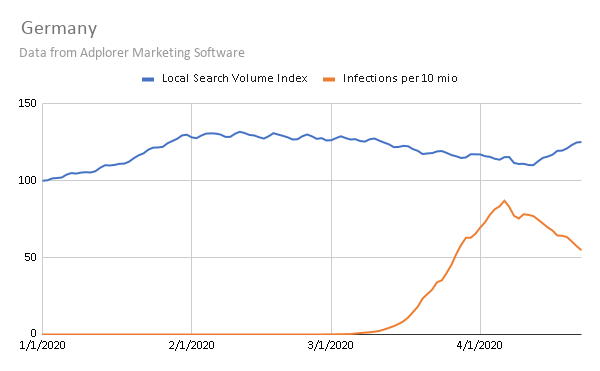 European Countries Beginning to Turn the Corner
France and Belgium are just beginning to see their own infection rates slow, but even so, we can see the effect that the decrease in daily COVID-19 has on the LSVI. France's LSVI was hit much harder than other countries, dropping 32.5% from its peak, which occurred on February 2nd. At the inflection point on the curve between April 14th and 16th, the LSVI is already rebounding. This slowdown in COVID-19 seems to be giving consumers the confidence to begin performing local searches for regular services and products again. France's LSVI hit its low point on April 11th and has trended back up to 18% of its peak in about 12 days.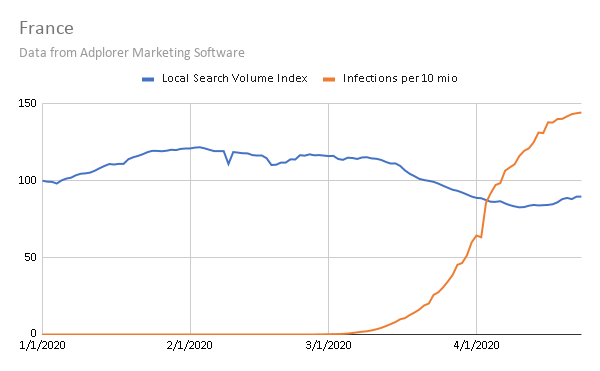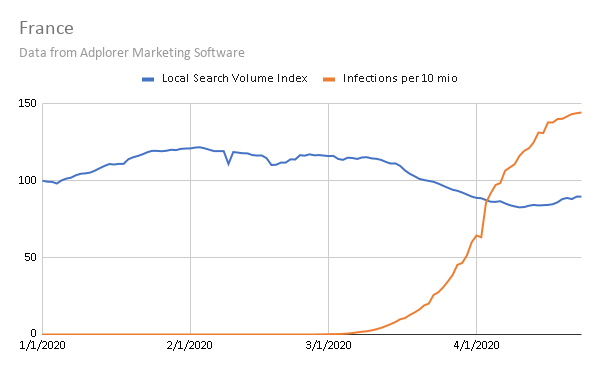 Belgium's search volume has actually increased above its previous LSVI before the country has shown a significant decrease in daily cases of COVID-19. They hit their lowest LSVI on April 7th when they only had 161 cases per 10 million population unit. By April 23rd they had rebounded 125% since their lowest LSVI. Their cases had only begun showing signs of slowing around  April 9th.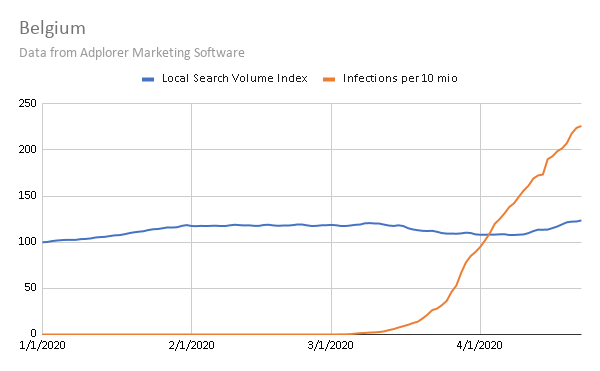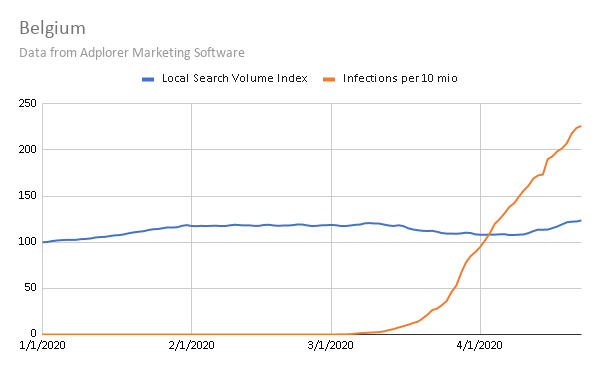 The United States
The United States, as of April 23rd, has not quite caught up to the other countries in their decreased number of daily COVID-19 cases, but they are already showing signs that local search volume is returning. Our LSVI shows that the available impressions hit their lowest point on April 18th. Although the increase in cases slowed around April 18th, cases have been increasing at a steady rate since. Our prediction, based on the behavior seen in other countries farther along in the pandemic, is that once the increase in daily cases begins to drop off these local searches will return. As of April 23rd, the United States' LSVI has already risen to about 23% compared to its low point.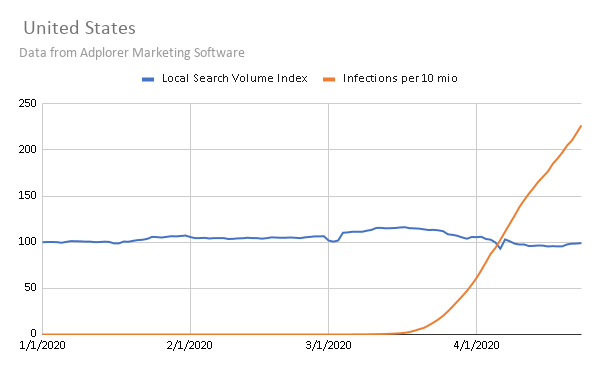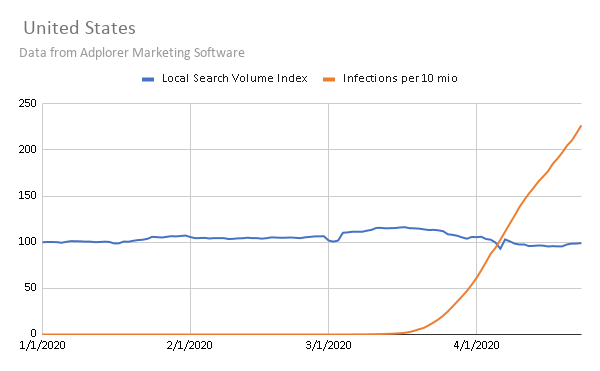 How Does This Study Affect Marketers?
Marketers need to closely watch the trend of daily COVID-19 cases, as this will have a direct impact on search volume, "normal" consumer demand, and consumer confidence. Use insights from other countries that may be farther along in their journey to fight the Coronavirus, and monitor your existing campaigns closely. Use helpful tools like Google Trends to follow search interests, and keep campaigns active if at all possible to know when total impressions are back on the rise. Even a campaign with reduced budget will allow you to calculate the total available impressions so that you know when to ramp your marketing back up. We will be updating these charts with new daily stats on an ongoing basis, so check back in for the latest updates!
If you are looking for an all-in-one local marketing platform to manage all of your campaigns at scale, check out Adplorer to get started!