CRM module facilitates the control of your agency workflows
Flexibly adaptable to the organization of your agency
Adplorer is an ideal CRM for agencies because it can be organized in up to seven levels. At the top is your agency, which you can divide into specific brand or agency profiles underneath containing their own clients or locations. Clients can also be aggregated into sub-groups for co-ops or multi-location businesses. Each location or individual business can then have specific marketing orders, where you can manage different types of digital marketing campaigns and manage each campaign's ad groups.
In addition, Adplorer offers managers transparent, top-level insight into their digital marketing campaign management. Top-level administrators can define employees as being salespeople, account managers, campaign managers, technicians, and administrators with their own access levels and assigned tasks.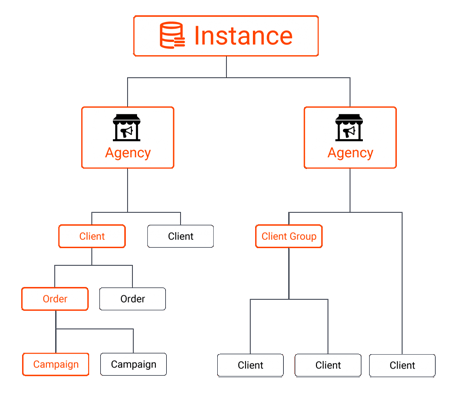 Valuable KPIs for management
Don't waste your day assigning tasks, generating invoices, and compiling reports any more. Adplorer's CRM agency tool offers everything in one easy-to-use solution that makes your life as an agency manager easier. Adplorer's management dashboard facilitates the daily work of managers to control workflows, assign automated tasks based on marketing performance thresholds or quickly send one-time tasks to the right team member. If you need to ensure that a campaign is not launched before a specific task is completed, add a checkpoint to ensure no errors occur. Once the task is complete, your team can log service notes so that everyone on the team knows exactly what was changed, when, and by whom.
.
Interfaces for data import and export of agency CRM

Of course you can link your existing systems with Adplorer via integration. Adplorer offers a SOAP-based API with a variety of methods that facilitate creating and modifying customers and orders. You can easily export reporting data from Adplorer via the API, too. With Adplorer, you no longer have to program and maintain many API to various platforms to have an accurate picture of your marketing programs. Instead, you can create and access everything centrally via Adplorer.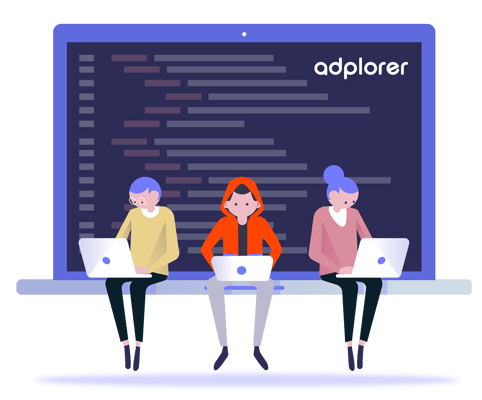 APIs

Adplorer's standard SOAP API provides all necessary methods to import customer, order, and campaign data and to export reporting and billing data. You can also create sample campaigns in Adplorer and then activate them for new customers via API.

.
Net Promoter Score

With Adplorer's integrated NPS module, you can regularly check the satisfaction of your customers. This is especially convenient since you already have the necessary e-mail addresses of your customers stored in Adplorer for sending monthly reports.

.
Invoicing module

Adplorer includes a fully integrated billing module that allows you to automatically generate invoices to your agency customers directly. The invoice data can be exported to accounting systems like Quickbooks. Incoming payments from customers can be re-imported from Quickbooks to Adplorer. Adplorer then knows what the payment status is and can, if you wish, automatically pause defaulting customers.
Management Reports

Adplorer provides a variety of reports to help management monitor and control agency performance.
Yes. Adplorer saves all changes in a loglist that can be viewed by authorized administrators.