Setup of PPC Campaigns with the Adplorer Management Software
All PPC Marketing Business Models can be Mapped

Our PPC management software incorporates over 14 years of experience with local PPC campaigns. We have seen practically all possible constellations of agency business models and have incorporated them into Adplorer. Do you as an agency or does your client pay media expenditure to the advertising channel? Do you want to end the campaign when its budget is used up or when the end date is reached? Do you want to invoice the customer for your services after the end of the service month or at the beginning of the service month? Do you want to pace the customer's budget within one calendar months or across months? Do you want as many impressions and clicks as possible or rather as many conversions as possible? ……With PPC management software you can configure all this and more for each individual order!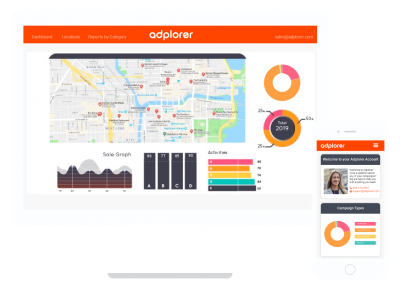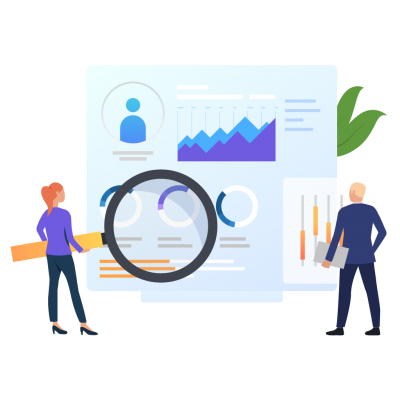 One Pay-per-Click Management Software for all Local Advertising Channels
With Adplorer you can avoid having to learn the different editing interfaces of Google, Facebook and BING one by one. In the Adplorer's PPC management software, logic and structure are the same for you as a user for all channels. This not only makes it easier to use new features, but also to compare channels. The setup of PPC marketing campaigns is made easy with Adplorer.
PPC marketing for beginners, intermediates, experts & APIs

Campaigns can be set up with Adplorer by laymen, by experienced campaign managers, by real search professionals or via API. Users can edit campaigns in the very simple self-service environment, in the more advanced Adplorer backend interface, in the Google-UI, Facebook-UI or BING-UI directly or via API. You decide what is most suitable for your situation – fast and easy or more tedious but more complex.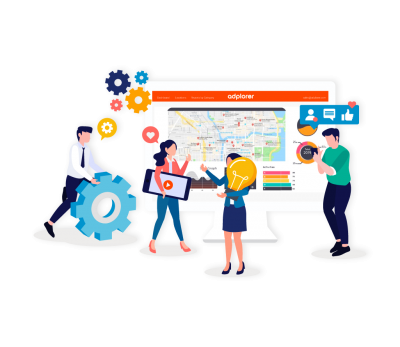 In the agency world, there are a multitude of business models. With Adplorer PPC management software, you are able to put them into a structured form. You can define whether:
the order has a fixed

runtime

or is automatically renewed for a period of time defined by you,
the campaign

is automatically stopped

at the end of the term or only once the client's budget is completely used up,
the daily budget of the campaign is constant over time or changes e.g. due to

seasonal effects,

you as an agency or your client pays the media costs to the advertising channels used,
Adplorer calculates your management fee on the basis of the actual expenditure for advertising or as a fixed amount or
Adplorer issues invoices monthly before the beginning of the service provision or after the end of the service period
If you are unsure whether your model can also be shown, please ask us. We will gladly advise you.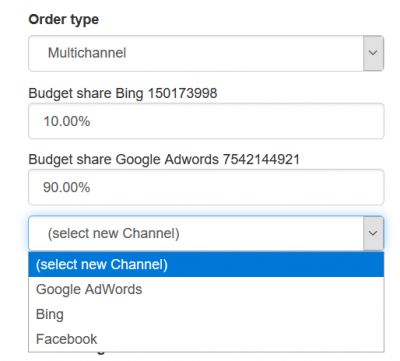 Adplorer takes care of the optimal budget distribution for your orders, that you want to deliver in parallel on several channels. You have a choice between three alternatives.
1. Fixed Channelbudgets: Each advertising channel will be equipped separately with a fixed budget and optimized accordingly separately. Users ca view reports per channel and also in an aggregated manner.
2. Percentage channel budgets: All channels share a budget, but you specify what percentage of the budget should be spent on which advertising channel. Adplorer controls the expenditures accordingly, but distributes budget that may not be spent on one or the other channel due to lack of coverage pro rata to the other channels.
3. Shared Channelbudgets: You leave the budget allocation to Adplorer. Adplorer's algorithms will control spending in such a way that the performance target you have set (e.g., maximum number of clicks or maximum number of leads) is optimally achieved.
.
Adplorer's Pay-per-Click management software offers you four basic methods for the creation of orders and advertising campaigns.
1. Occasional user: With the 6-step self-service tool, ready-made template campaigns can be easily finalized and booked.
2. Campaign manager with standard defaults: Adplorer's backend offers many possibilities to create campaigns across different channels in the same interface.
3. Campaign manager fully flexible: For full flexibility, your experts can also decide to create campaigns directly in the user interfaces of the advertising platforms and then import them into Adplorer. In this way, all the features of these platforms can be used to the full extent.
4. API: Via our SOAP API, ready-made template campaigns can be finalized and started fully automatically.
Search Engine Marketing

Search engine marketing on Google using Google Ads, Google My Business optimization, and SEO tactics are the absolute foundation of online marketing. With Adplorer's PPC management software you can automate large parts of the relevant recurring tasks.
Social Marketing

PPC Marketing can also be found in the social section of ads on Facebook and Instagram. Social Ad campaigns can be easily managed using Adplorer. In addition, posts can be made and scheduled on Facebook and GMB via Adplorer. Facebook Post Boosting is also no problem for Adplorer.
Display Advertising

To increase brand awareness or brand loyalty, targeted display advertising with image and text components on the Google Display Network or on Facebook is suitable. Create those display campaigns easily with Adplorer.
Video Ads

Video advertising offers enormous potential for local advertising. Unlike traditional linear TV, using channels such as YouTube and Facebook, marketeers can target local areas with video advertising. Adplorer allows you to set up these campaigns and generate reports as part of an integrated reporting system.
.
Bulk Operations

If you want to create local advertising for individual businesses that are part of a franchise or multi-location business, then the campaigns are typically similar but not exactly the same for each location. Using Adplorer's PPC management system, you can create template campaigns with variables that are then exchanged for individual location information.
You are looking for a white label PPC Management Software?
We also have that for you!