Our Customers are Agencies and Multi-location Companies
Agencies, multilocation organizations, and marketing platforms use Adplorer's digital marketing tools and services to scale and manage many local marketing campaigns.
Agencies specializing in local marketing for SMEs and media agencies whose national customers want to conduct local marketing use Adplorer's digital marketing tools e to create, manage, report, and invoice advertising. Adplorer is a tool – everything in one, for local advertising. Adplorer's bulk tools and processes organization will help you manage and scale your marketing programs.
Multi-Location Businesses
_____
Multi-location companies such as franchise systems, chain stores, or Co-Ops can use the Adplorer's digital marketing tools to efficiently deliver localized online marketing campaigns to their individual locations. Adplorer's digital marketing tools seamlessly integrate your marketing programs and services for the corporate office and your local partners.
Marketing Platforms
_____
Adplorer is connected via APIs to the relevant online advertising platforms for local marketing. Marketing platforms, in turn, can connect to Adplorer using APIs to combine all of the different 3rd party digital marketing tools and applications into one centralized place. One interface with Adplorer gives you direct access to Google Ads, GMB, Facebook, Facebook Pages, and BING Ads.
Process management with Adplorer
Adplorer supports agencies during the entire process of setting up and managing localized digital marketing tools. The process flow is flexible and can be custom-defined for each marketing package offered. Wherever it makes sense, steps are automated as much as possible, so that even large numbers of marketing campaigns can be handled by just a few employees.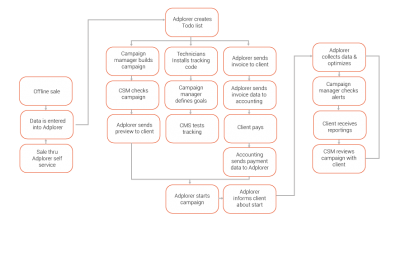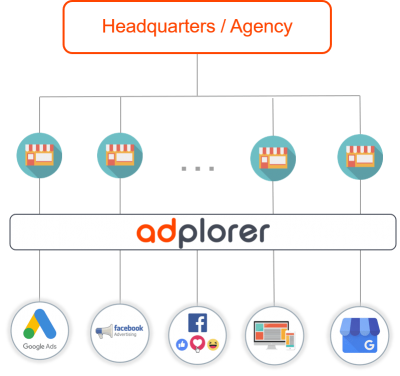 Local Marketing Multi-Location Businesses
Adplorer was developed specifically for local B2C franchise marketing and retail marketing for chain stores. The head office of the organization can use Adplorer as the central booking tool for the campaigns of the locations. Rules, such as the geographical focus of the campaign, ad texts used, minimum budgets and others can be easily mapped. Of particular interest is the option of hybrid financing, where the individual sites can decide independently on the budgets they use and where the central organization can then provide additional support for these campaigns via a marketing cost subsidy.
API Connections
Marketing portals, hosting providers, and marketplaces also want to offer their customers advertising on Google, Facebook, BING and WAZE. Instead of independently developing interfaces to these channels, Adplorer offers you a one-stop shopping solution. With a single interface to Adplorer's digital marketing tools, all these channels can be served directly and you can benefit directly from Adplorer's more than 10 years of development work. This saves costs and reduces time to market.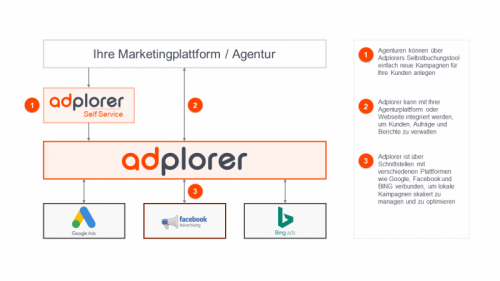 Not really. Adplorer is able to manage and automatically optimize Google Shopping campaigns and our customers who manage e-commerce orders via Adplorer report very good results, especially when there are other lead types relevant to the customer in addition to sales conversions. However, Adplorer is not designed for e-commerce. Agencies that only manage a few large e-commerce accounts can only take advantage of Adplorer to a limited extent.
.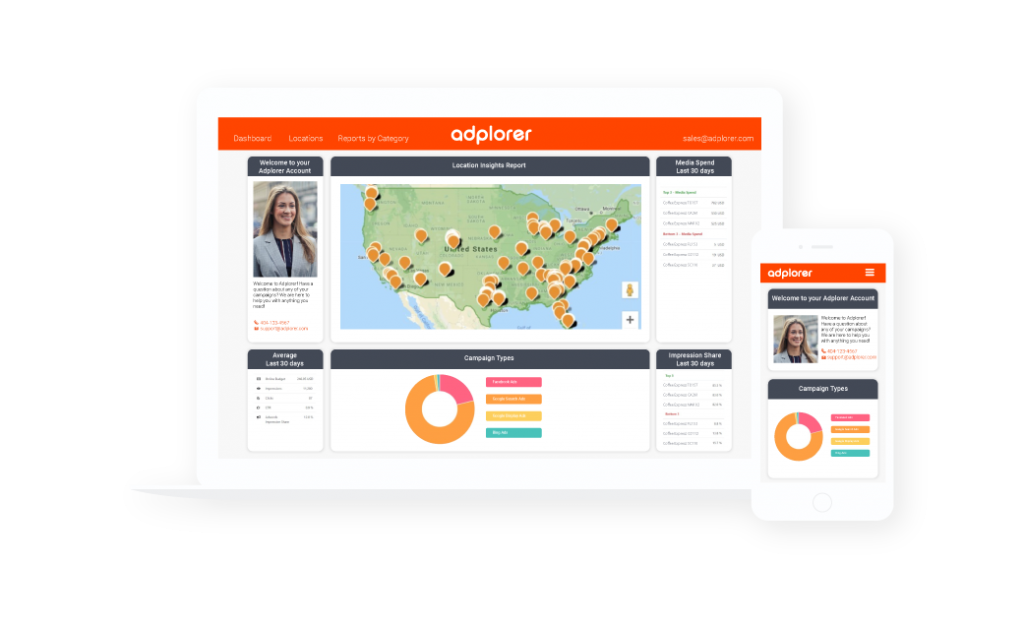 Learn more about Adplorer's digital marketing tools for local advertising and marketing programs!