Without effective reporting tools, a sustainable marketing strategy is impossible
Real-time reporting tools
Without effective reporting, a sustainable marketing strategy is impossible. Adplorer offers real-time reporting tools for clients, presenting data sets of all sizes to be generated any time you wish. Good reporting doesn't just gather data and display it on a simple graph, our reporting tools gives businesses the opportunity to grow by identifying marketing gaps and opportunities to grow your business. We have reporting tools for all of your needs no matter your goal.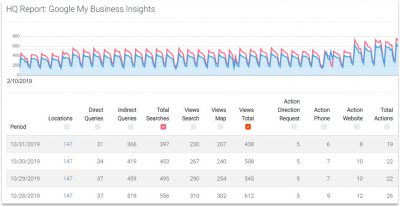 Real-Time Metrics

Paid Search – PPC

SEO

Keyword Ranking

GMB Insights

Website Analytics
Net Promoter Score

Client Level Single or Multi-Location Reports

Brand Level Roll-Up Reports

Facebook Ads

Facebook Page

Automated Email Reports
See your marketing metrics across all campaigns and locations rolled up, broken down, or segmented with our autmated marketing reporting tools to monitor overall performance and make your next strategic marketing move.
Have a detailed and documented understanding of your customers' overall satisfaction with your product or service and loyalty to your brand with our Net Promoter Score (NPS) report to measure the willingness of customers to recommend your products or services to others.
Get valuable insights into your Paid Search, SEO, Social Media, and more marketing efforts in our easy to use reporting dashboard to see where you stand and what to do next to take your digital marketing to the next level.
If you are always on the go and need a quick easy peak to stay on top of your marketing performance, schedule an automated report to be emailed to you when you need in order to stay on top of your business and your life, with your business' performance in your pocket.
Schedule a demo with one of our specialists to learn more and get started with Adplorer!