Outsourced Campaign Management

Are you looking for a provider to take over campaign management while you maintain control of the brand strategy and customer relationship?
Adplorer's white-label ppc campaign management services may be just what you need. While some customers want us to take over and manage all of their needs completely and others simply want to license our software to take advantage of its benefits, other agencies are looking for a middle ground in between.
Our Campaign Management Services
Do you need help managing digital marketing campaigns? We take care of the creation of new campaigns on various platforms such as Google, BING, Facebook, or YouTube, manage alerts and potential problems, and provide you with our expertise as consultants. Where appropriate, we also carry out manual optimizations. We work closely with you to ensure that your specific needs are covered.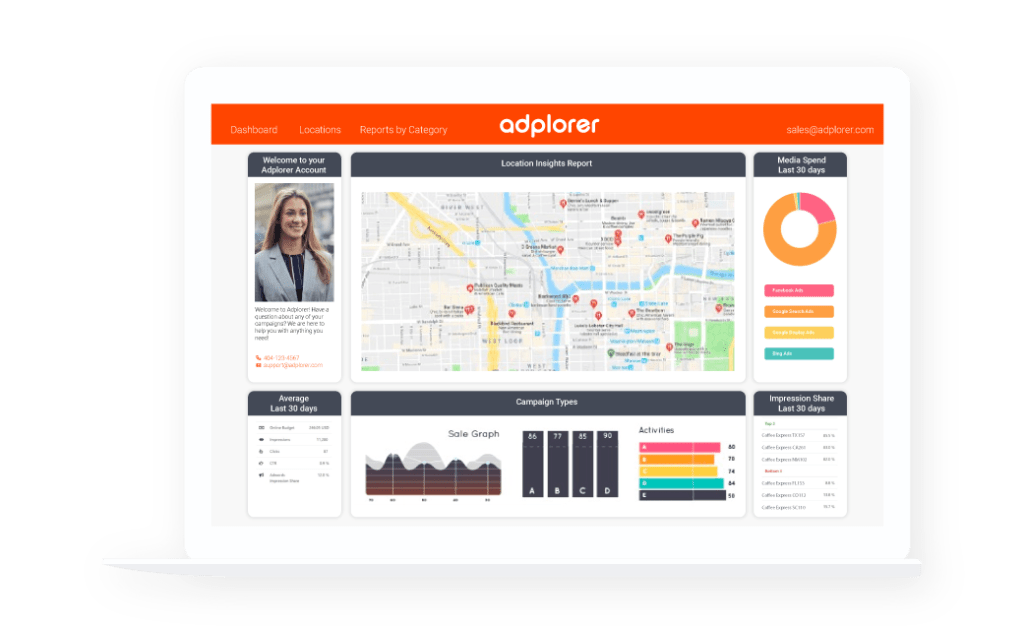 Choose Your Level of Involvement
You manage your customers, we'll manage your outsourced campaigns. Typically, for a campaign build, customers send us their basic requirements for their campaigns and any marketing content they would like us to use. If you want to monitor your campaign performance we'll give you access to key campaign stats like alerts, performance signals and reports directly in your Adplorer dashboard. You are able to work with us to make any changes and optimizations either manually or through the various functions of our software.
All you have to do is take care of your customers. All customer dashboards and email reports will be white-labeled with the name of your agency.
There are many advantages to this hybrid solution. With Adplorer, your agency will be able to manage a very large number of campaigns at scale while maintaining control over the overall strategy and customer relationship. Using our platform and digital marketing expertise allows you to focus on your customers. Especially if you don't have a specialized SEM team, our hybrid solution can help you reduce your fixed costs while working towards scaling your customer's marketing programs.
If this option interests you, please feel free to contact us. We are flexible and will be happy to discuss ways in which our solutions can best fit your business model.
If you have a new idea or a question about your campaigns you'll know who to go to. Usually, we have a central contact person at Adplorer through whom you can set up new campaigns and optimize existing marketing efforts. If you have any questions this person will find the answer!
This depends on the complexity of the campaign. Once we have all the information needed, we can guarantee a maximum processing time of 5 days for standard campaigns.
Adplorer can create and manage search ad campaigns on Google and BING, as well as campaigns with an image or video material on Facebook, Google Display, or Youtube.