What motivates us anew every day…
Our vision is to develop an automated all-in-one solution for local digital advertising
When Adplorer was founded in 2009, machine learning advertising was not yet a real topic. But we already started to develop an in-house ad management software for Google Ads. Since then, we have continuously expanded our platform to meet all local digital advertising requirements with competence and speed, trustworthy transparency and passionate customer service. We have not yet reached our goal, as this is still a moving target at the moment, but we are getting closer and closer to our goal every time we release a new version of our software solution.

Our belief is that the advertising industry is in the middle of a profound change, similar to changes that other industries like for example the car manufacturing industry went through. At the beginning of the 20th century cars were produced individually in small local shops. This changed completely with the invention of assembly lines that structured the production process, allowed for a distribution of the work among different people with specialized skills and which let to the automation of more and more repetitive tasks. A similar paradigm shift is now transpiring in the local advertising industry. Eventually we believe that agency employees will spend their time exclusively with creative thinking and surveillance of the automation algorithms at work.
Today our software gives agencies, franchise brands and multi-location businesses the ability to manage all their essential digital advertising programs in one place. Our proprietary optimization algorithms are the core of our Machine Learning Marketing approach and eliminate cumbersome daily work in the execution of local advertising campaigns. Monitor social media, pay-per-click advertising, organic rankings, and more with our custom integrated reports.
Adplorer has offices in five countries and two continents. This allows us to handle international projects and provide contacts for almost all time zones.
Our team consists of knowledgeable employees with different skills to provide you with the best possible local advertising software and customer service.  The Adplorer team can help you understand your company's position and how you can achieve your goals through our platform and machine learning local advertising.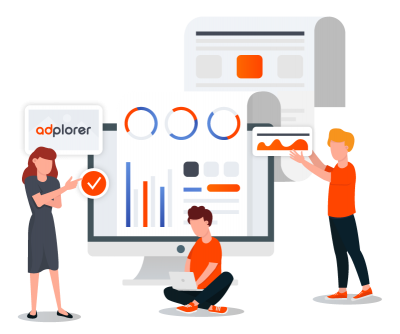 No matter what kind of support you need at what time, our support team is  available to support you. Your personal customer success manager will help you get the most out of our software and your local advertising campaigns!