Marketing Dashboard & Email Center for Your Reporting
Use the advantages of automated reporting
Avoid manual report generation
With our marketing dashboard, effective reporting and thus a sustainable marketing strategy can be implemented. Adplorer offers customers real-time reporting and presents a wide range of performance indicators that can be viewed at any time. After the one-time configuration, this happens fully automatically – your agency employees no longer have to spend days copying reports for customers from various data sources together, but can spend the time discussing the results with your clients.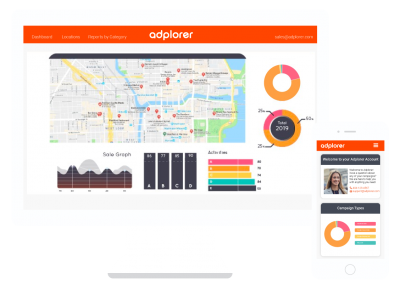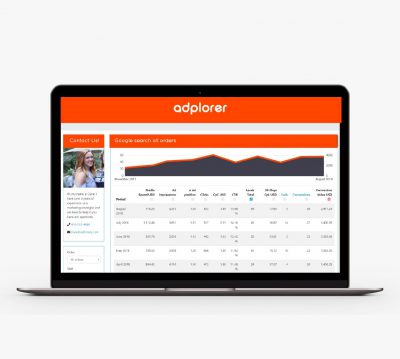 Offer your customers 360 degree reporting
Especially SME customers are looking for providers who can take over all aspects of online marketing. Agencies must be able to do this work. They also have to provide their customers with information about their activities and their successes, and this across many online media. Adplorer helps you do this, because all important channels such as SEO Reporting, GMB Reporting, Google Analytics, Google Ads, Google Local Service Ads, BING Ads, Facebook Ads, Facebook Insights, Youtube Ads, Waze Ads and more can be presented in compact, clear reports in Adplorer's marketing dashboard.
Aggregate data across sites

The challenge in marketing for networked and multilocation companies is to create local reports for the individual locations on the one hand and to provide reports across locations on the other hand. Adplorer takes care of this for you. Individual locations can access reports for their areas, and central units can use aggregated roll-up reports with drill-down capabilities.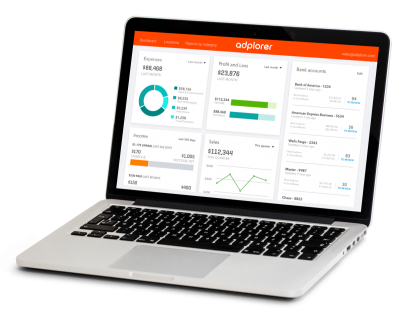 In addition to the marketing dashboard, Adplorer offers a variety of reporting options for managers, specialists and customers

Offer your customers valuable insights into your paid ads, SEO, social media and other marketing activities in our easy-to-use Reporting Dashboard. The marketing dashboard is fully whitelable. This allows you to share your online marketing expertise with your customers.
.
If you are always on the go and need a quick and easy overview of your marketing performance, schedule an automated report to be sent to you via E-mail– This way you will always have your company's marketing performance in your pocket.
Get a detailed and documented view of your customers' overall satisfaction with your product or service and loyalty to your brand with our report Net Promoter Score® (NPS®) to measure the willingness of customers to recommend your products or services to others.
Real-time and long-term data that we make available

Paid Search – PPC
SEO Keyword Rankings
GMB Insights
Waze Reports
Google Analytics
Net Promoter Score
Single or Multi-location Reports
Headquarter Roll-Up-Reports
Facebook Ads
Facebook Insights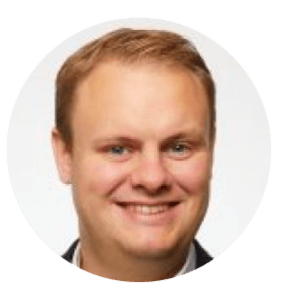 Jonas Anlauf
Teamlead Online-Marketing-Services, Visable GmbH
"Thanks to Adplorer we are finally able to automatically send our customers exactly the reporting emails we want them to receive. New features in the Adplorer mail center are implemented quickly and according to our wishes."
My Rating:

Our agency customers greatly appreciate the Adplorer email center. It allows you to create standardized reports for your customers, which are then automatically sent to customers using variables to individualize the content.
.

The Customer Marketing Dashboard is one of Adplorer's core modules. Your agency customers receive a personalized login from you and can view their reports in the customer center, but also rate conversions, comment on posts and much more.
.
Adplorer collects the data for customer reports every day at night and stores them for the duration of the collaboration.
Set-up a demo with one of our specialists to learn more about the Adplorer Marketing Dashboard and Reporting Mails!