AI and ChatGPT for Local Advertising
Artificial Intelligence has the potential to revolutionize the world of local advertising, but its practical implementation and integration into existing software tools are paramount. As the local advertising industry continues to evolve, embracing AI in local advertising becomes crucial for staying competitive. In the marketing and local advertising technology space we are in a bit of a Groundhog's Day scenario where the buzzword of the day is Artificial Intelligence (AI) over and over and over again every day. So first things first, let's establish what exactly AI is…. In technical terms, AI generally refers to computer systems capable of performing tasks that require human intelligence, such as speech recognition, problem-solving, and decision-making. When we speak about AI, lately we are usually referring to generative AI which falls under the broader category of machine learning. Generative AI can learn from inputs and create new content, the most popular generative AI tool right now is Chat GPT. The "GPT" in Chat GPT stands for Generative Pretrained Transformer. In the advertising technology industry, AI has been touted as a game-changing tool, promising improved efficiency and effectiveness. However, while AI's potential in advertising is widely accepted, there is a general lack of clarity regarding its integration into existing software tools and its impact on local advertising. I.e. Everyone seems to be saying they are using AI, but it's not clear how, to what extent and why it is being used. It is almost as if AI has become a new branded synonym for "modern" or "cutting edge" in tech. Terms that are easy to use but harder to define or justify. 
AI as a Marketing Tool:
The potential of generative AI as a marketing tool is undeniable. Its ability to analyze vast amounts of data, identify patterns, and make data-driven predictions presents a new frontier for advertisers. Marketers can leverage AI algorithms to understand consumer behavior and sentiment, personalize advertising messages, optimize campaign performance, and enhance customer experiences. A recent survey by LinkedIn found that 57% of b2b marketing teams are already using generative AI to "create more content in less time". However, the challenge lies in understanding how AI can enhance existing advertising software tools in the market.
Enhancing Existing Advertising Software Tools:
In the local advertising industry, it is essential to bridge the gap between AI's potential and its practical implementation. Local digital advertising is typically budget constrained, so it's crucial that it's delivered at scale as cheaply as possible. AI integrations in adtech have the potential to drive down cost. Currently many advertising software tools claim to leverage AI capabilities, but it is often unclear how exactly these tools utilize AI to deliver more value. As ad tech providers, it is necessary that we look beyond trending buzzwords and demonstrate concrete examples of AI integration that are proven to add value for multi-location local advertising campaigns.
Local advertising for franchise brands requires a delicate balance between customization, personalization and scalability that allows franchisors and their agencies to deliver cost effective successful campaigns. This tension between the divergent need for both the benefits of automation and human customization dates back to the 1970's when Japanese roboticist Masahiro Mori coined the term "uncanny valley" to describe this phenomenon. For more on this topic you can check out our friends at PowerChord agency who wrote this in depth post on the uncanny valley.
Adplorer's Integration of Chat GPT:
At Adplorer we are proud to have taken our own measured approach to leveraging AI to enhance our local advertising software. We understand that customization is a key component to local advertising and that's why we have carefully integrated Chat GPT into the Adplorer platform. With this integration, Adplorer has introduced a groundbreaking ad text generation feature that revolutionizes how agencies and internal marketing teams deliver Google Search ads.
The new ad text generation feature powered by Chat GPT enables franchisors and agencies to save time creating engaging and high-converting ad copy in seconds for hundreds of locations all while respecting established  franchise brand standards. 
Adplorer's Chat GPT integration provides pre-set prompt parameters that in turn generate ad copy based on the target url text target. Saving time and supercharging the capabilities of busy campaign managers.
This integration compliments Adporer's existing bulk editing and bulk creation tools, providing true AI powered scalability for Google Search Ad campaigns.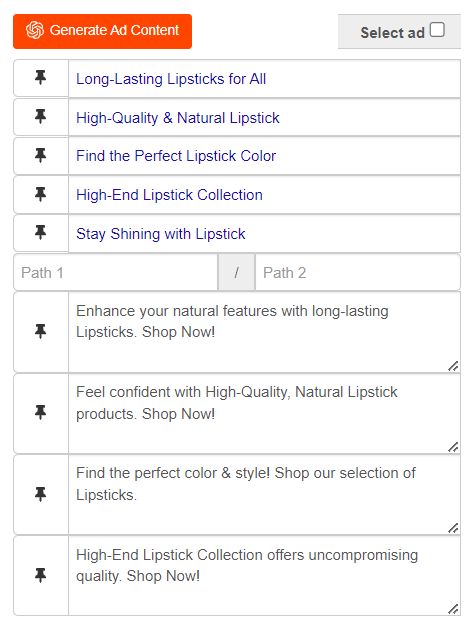 Adplorer's goal is to continually improve its platform to solve scalability problems and empower digital agencies and franchise brand marketing teams to deliver quality affordable local advertising to franchisees and SMB clients.
Conclusion:
Adplorer's commitment to incorporating AI technology into its software demonstrates its dedication to empowering campaign managers and advertisers with cutting-edge tools. With the integration of Chat GPT, Adplorer paves the way for agency and franchise brand advertisers to harness the full potential of AI, increasing campaign manager capabilities and driving down cost. We're excited to watch our agency and multi-location partners save time with this new feature. We believe the success of existing tools enhanced by AI will drive the development of future new AI tools. There will likely be many more opportunities to integrate AI into the platform. Stay tuned for more tools coming soon!