What is Addressable TV Advertising?
The Global TV Group defines ATV as "technology that lets you show different ads to different audience segments watching the same TV program."
Whether it is collected by the connected TVs or the boxes, depending on the consent of the users, a large amount of data is recorded and can now be used for targeted advertising on linear Addressable TV.
Unlike linear TV where ads are targeted according to channels and programs,  linear addressable TV allows targeting according to household characteristics. On linear TV, viewers see the same ad at the same time on the same channel. On addressable linear TV, this is not the case.
What are the targeting options for advertisers?
The main targeting options are :
Geographic
Demographic
Household Composition
Type of Housing
Viewer Consumption Profile
Adressable TV advertising is now very interesting for all types of advertisers for different reasons. Big advertisers can divide their target audience and display different campaigns to different audiences and be more relevant. National SMBs can reduce their ad budget by only targeting households that are more likely to have an interest in their business, and Local SMBs can now access this medium because they can finally target a specific geographic area.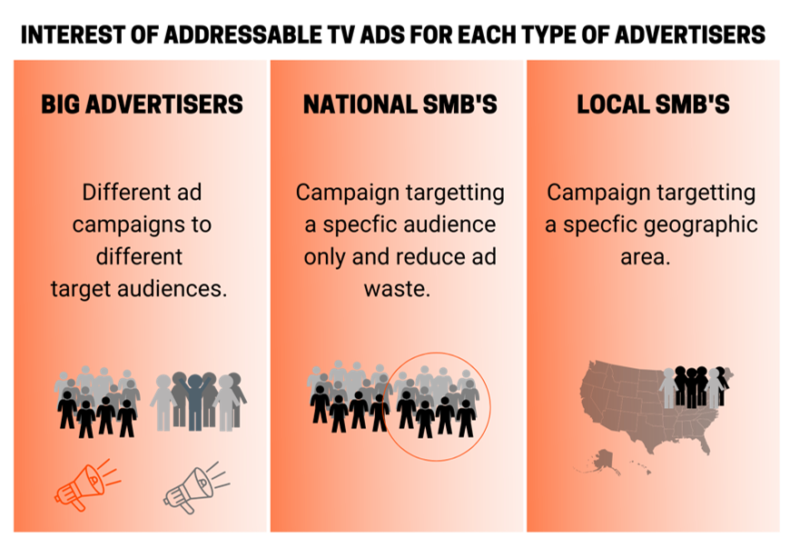 This type of advertisement is more or less developed depending on the different markets. According to the most recent market calculations, U.S. advertisers spent roughly $2.14 billion on addressable TV ads in 2020. They are expected to further increase their spending by some two billion dollars by the end of 2023. To compare, programmatic digital display advertising spend was $106 billion in 2021. (statista.com)
What is the best option for SMBs to advertise on TV?
Thanks to the connected TV (CTV), also called smart TV, companies can now activate Display campaigns on this media channel! So if you've always dreamed of seeing your ad on TV, now is the time to get started!
As you know, TV ads have the strongest and longest-lasting impact on viewers.
Until recently, TV advertising was the medium of choice for big advertisers! For several obvious reasons: the cost of the media buy, the cost of creating the spot, and the inability to target locally. Now you can have the same degree of granular targeting and attribution that digital advertising provides.  It opens the door for all advertisers to take advantage of TV's uniquely powerful advertising capabilities.
Digital advertisers who do not have the standard, full-length 20-second TV ad can still bring their message to the TV screen by using display-only campaigns.
What is a Smart TV:  A smart TV offers internet connectivity and support for a range of apps. This opens up a world of new entertainment options, from streaming video on Netflix and Hulu to playing games, checking social media, and controlling a house full of connected gadgets. It is much like smartphones and smart home devices.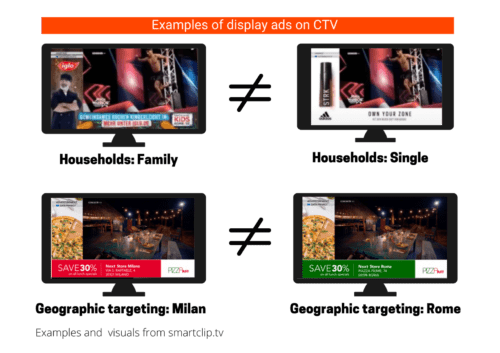 The targeting options are as numerous as display networks on other devices and the control of ad Spend and ad exposure is also a big advantage.
Let's take an example of an addressable TV ad campaign from a German client:
An advertiser in Mainz decided to market a current model of a German car manufacturer. Since most new car buyers are male, have an above-average income, and are between 30 and 60 years old, we decided to set the following targeting:
Target group: male, over 30 and under 60 years old, household income over 3000€.
The city of Mainz with all its postal codes was selected as the target region for the Mainz site, and addressable TV ad campaigns allow accurate targeting for this location.
An XXL switch banner with the dimensions: 284x720px + 996x160px serves as the advertising medium.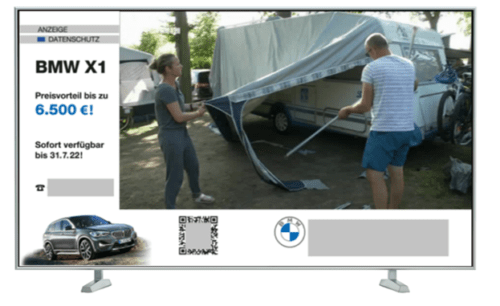 Image source: smartclip.tv
The advertiser has an advertising budget of well under 10,000€ and we recommended that a constant, time-limited advertising pressure be exerted over a period of 4 weeks through frequent repetitions on the same devices. As a result, with this addressable tv ad campaign, we reach about 1000 different daily users who belong to the selected target group, to whom the advertising message is presented about three times a day.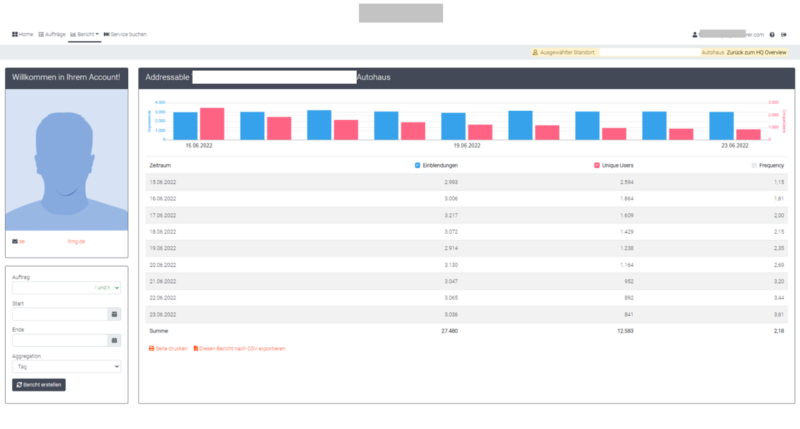 Conclusion:
ATV as a form of advertising for digital display advertising continues to make inroads in the market as an innovative form of advertising. It is out of the test stage and is experiencing steady growth. Companies that are already relying on this medium are benefiting from the current Aha! – Effect. If you're interested in using addressable TV advertising to grow your business, contact adplorer today and let us show you how it works. We have years of experience creating successful local advertising campaigns that reach the right people at the right time. This amazing channel is already available in Germany and will soon be available in France, the United Kingdom and the United States.