Whitelabel Local Marketing Solutions for Every Marketeer
__________

Technical Know-How And Marketing Agency Experience

_____
Adplorer's local marketing solution is the result of more than a decade of experience and work in local advertising. We also run a medium-sized agency ourselves and therefore know many of the challenges and problems that agencies face. We are happy to share this know-how with our clients.

Flexible Local Marketing Solutions For Every Marketeer

_____
We will be happy to discuss a very individual offer with you. Do you only need our software? Would you like support with technical integration? Do you need short-term help with the management of advertising campaigns by our experts as a white-label service? Are you looking for an agency that can also support your locations directly? Let's talk!

Cost-Effective All-in-One Solution

_____
Our technology has evolved over the years from a pure Google Ads solution for local advertising to a 360-degree local marketing solution. Reporting of organic and paid traffic, campaign management, GMB and Facebook page management, posting, billing, CRM…. everything is integrated. This saves time in daily work and reduces costs for licensing. We would be happy to show you.
Originally we developed our Adplorer platform as a local marketing solution for our own agency because we could not find a sensible way to handle the multitude of small tasks involved in managing local campaigns in an efficient way. "Automate wherever possible" that is our motto. In the meantime we have assisted many other marketeers and would be happy to show you how you can use this technology to streamline your own business.
Adplorer's Services for Local Advertising
Campaign creation and algorithmic optimization

Search ads (PPC)
Display ads
Social ads
Cross-Channel / Multi-Channel

Bulk edit mode for multiple locations
Video ads
Search engine optimization
Local Listings management
Google My Business
Templated Reporting Emails
Reporting Dashboard

Management Reports
Individual reports for clients

Automated billing
Sales Tools
Customer Self-Service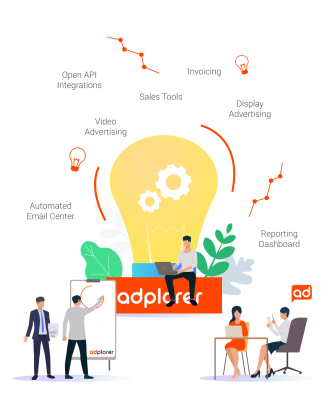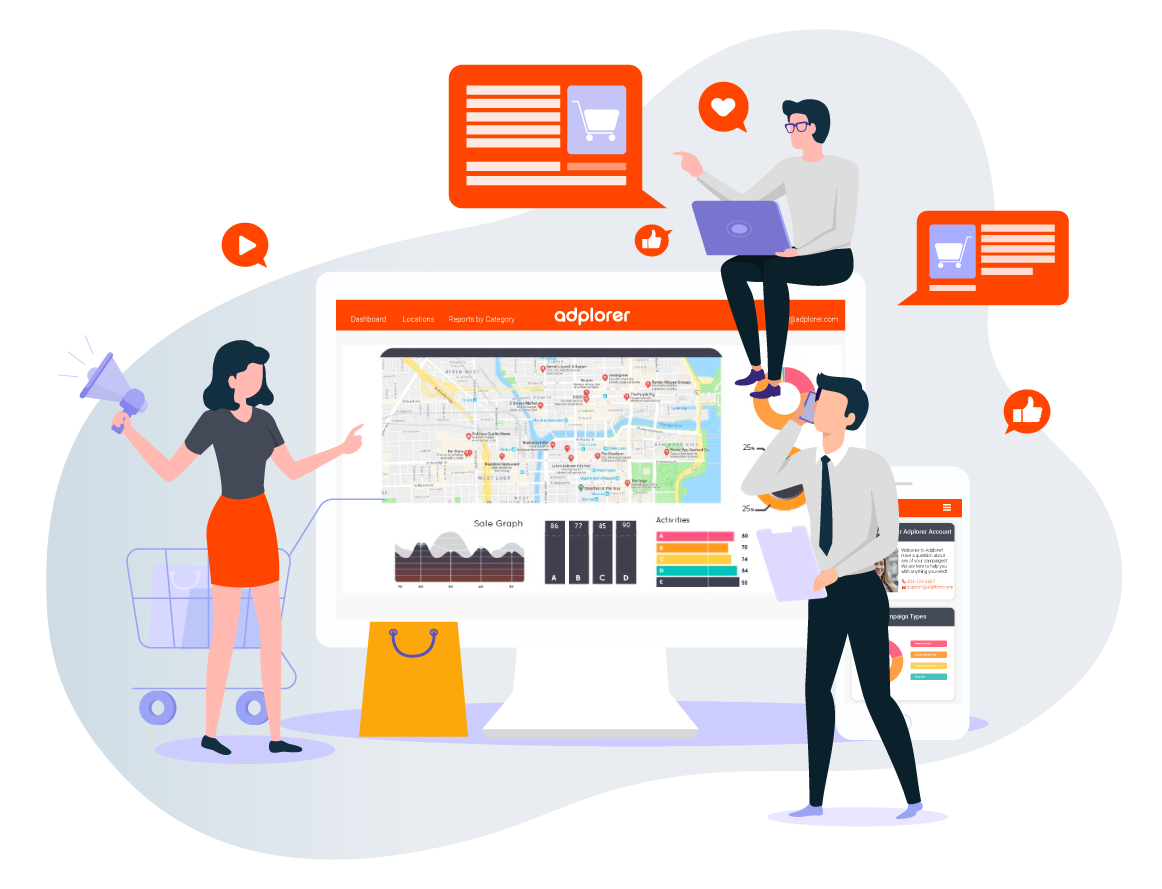 Adplorer's Local Marketing Solutions
Software for digital marketing agencies that want to offer local online advertising to their customers at scale and are looking for a more integrated, better customizable software solution that is also more cost-effective than licensing different solutions for different products from different vendors.
Software + Campaign Management for traditional marketing agencies or marketing distributors who want to offer a local online marketing program for their customers but do not have the expertise and tools to quickly launch and operate state-of-the-art online marketing products.
3. Full Service (Software + Campaign Management + Customer Service)
Software + Campaing management + Customer service for organizations with multiple locations, looking for a service provider to help with local consumer online marketing for the company's locations.
We try to make the costs of our services transparent and performance-based. In the software area we prefer a percentage of the advertising spend and/or an amount per linked account model. In the area of services, we take a modular approach and define individual work modules that are priced individually. We will be happy to explain further details in a conversation with you.