Start with Google
Here at Adplorer, we are oftentimes asked the same question over and over again from businesses looking to run online local marketing campaigns… "Where should I start?" For that answer, my recommendation is not always the most popular one, but is almost always the same: Start with Google.
Why do we start here? Why not Facebook? Or TV? Or what about traditional mailers? As we know marketing is about building awareness and driving leads. 
Google is where you start driving leads. Here's why:
92% of all searches are made on Google (3.5 billion per day!)
46% of those searches have local search intent – the key word here being Local
Your potential customers are actively searching for your product/service and they are doing it on Google. This direct intent means that whoever is at the top of that search will most likely win that business. 
But there are a lot of parts to the Google Page and a lot of ways to be seen on Google, so let's break them down to talk about which ones you need to focus on and how to turn Google into a Lead Generation Powerhouse for you. 
The Ever-Changing Google SERP
With Google being the most popular search engine in the world (86% of the search market share!), I'm sure you've noticed that Google's results have come a long way over the last 20 years. As Google has evolved more and more features have been added to the (SERP) so that users find the information they are looking for as quickly as possible. This gives businesses the opportunity to reach potential customers in multiple areas of the SERP. 
Some features are a better fit for your industry, business model, and location. Identify which sections your business needs to win, and focus your efforts on being number one in each of these sections.
The battle is getting onto the first page of Google, the victory is getting to the top.
---
Types of SERP Features:
Paid Results
First, let's talk about Paid Search, this is the first thing you will see most times you open the Google SERP. These results are the fastest way to get your business to the top of Google. As long as you have an adequate budget to beat the competition for your businesses target search terms, your business can appear at the top of relevant searches.
Paid Search Ads
In a click study by Bright Local, 14% of all clicks on the SERP went to the top PPC ads. The Paid Search results are marked with an "Ad" and oftentimes seen at the top or bottom of the SERP. These Search Ads work on a Pay-Per-Click auction system, where Google allows advertisers to bid on keyword phrases to show up at the top of Google, and only pay when their ads are clicked on. 
But it's not as simple as paying your way to the top of the page; PPC Ads are complex and require skill, expertise, and various optimizations to get the best results. Since these ads work in an open auction system, advertisers compete against each other for the top spots, using great ad copy, ad extensions, and the right bids to get users to click on their ads instead of the competitors'. 
Google Search Ads mostly consist of the traditional Text Ad format, but when the campaign is paired with a Google My Business (GMB) page, these ads are extended into the Local Map Pack. But more on GMB later… 
Local Service Ads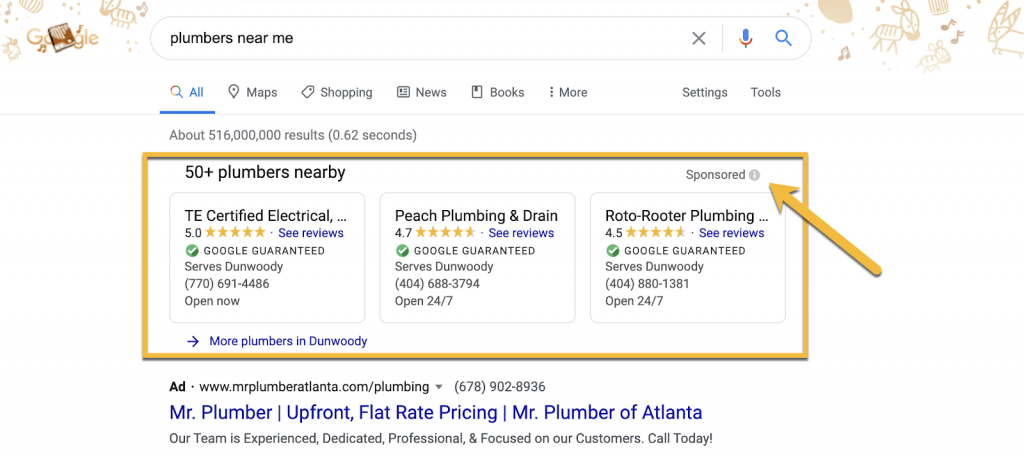 Another closely related ad format, most commonly seen for Home Service Businesses, is the "Local Service Ads" (LSA's) or "Google Guaranteed Ads". In the click study, 13% of clicks went to this section of the SERP when LSA's were present. These ads are actually operated out of a different dashboard separate from the traditional Google Ads platform, and they work on a Pay-Per-Lead (PPL) system rather than the traditional Pay-Per-Click. Advertisers only pay for the ads when a user calls, fills out a form, starts a messaging conversation, etc. with the business. Along with the appeal of the PPL system, these ads are much more prominent at the top of the SERP than other elements, featuring star ratings, a green Google Guaranteed check mark, and a relatively large footprint on the page. 
Shopping Ads
These paid ads also show at the top of the SERP, and work on the PPC auction method. An advertiser can link up an e-commerce website or store inventory system to advertise products that users can purchase through the Google Shopping portal.
Google Image/Video Ads
Google also offers specialized search results if you are looking for images, videos, or news articles. Each of these sections have their own unique SERP, with ads and organic listings similar to those mentioned above. These special types of ads are available to businesses that upload pictures or video content to the Google Ads interface. If your business is interested in running these types of advertisements on Google, you may want to do additional research on whether they are successful lead generation sources for other businesses in your industry.
Organic Search Results
The organic listings on the SERP are the core search results that Google returns to the searcher. These results are not paid, and businesses can increase their ranking by implementing great on-page SEO tactics on their website and gaining popularity over time.
Google My Business (Local Map Pack)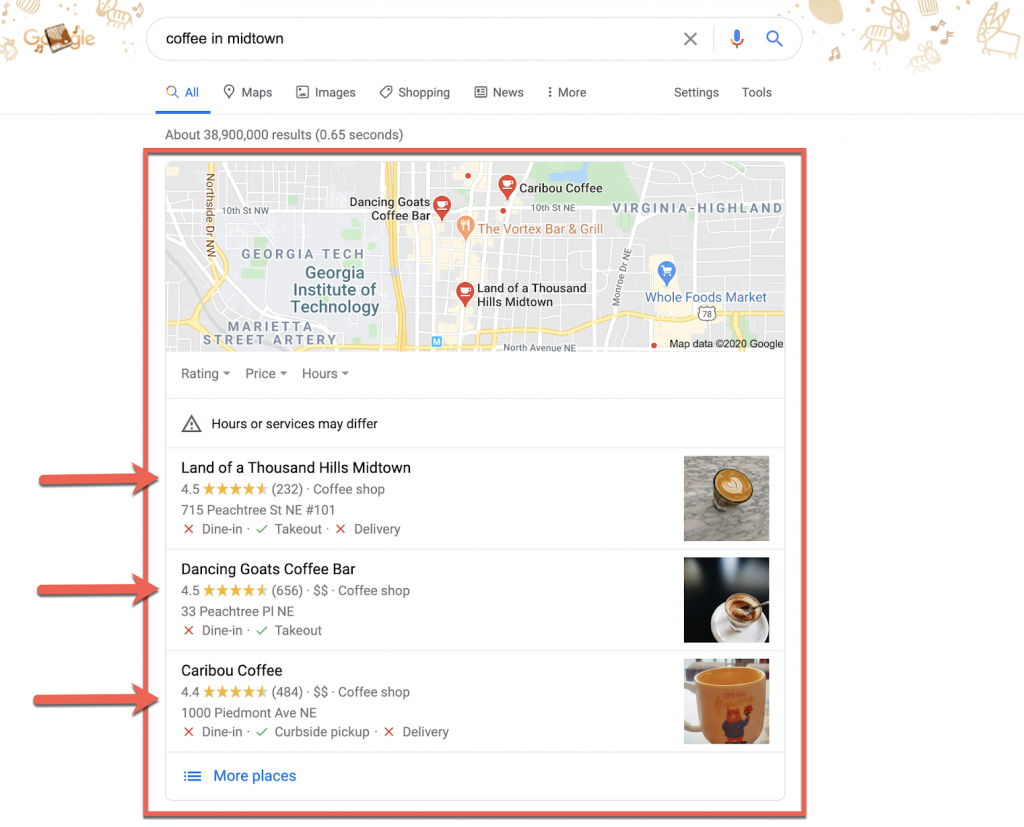 The first organic section you'll notice on the Google SERP is the organic Local Map Pack, made up of local Google My Business (GMB) pages. In the click study, about 30% of clicks went to this section of the SERP. For most searches with the Local Map Pack, Google will show 3 business listings related to the search query. Clicking on the "More Places" button will take the user to Google Maps where they can browse more GMB pages to find the right business. While there are sometimes paid ads in the Map Pack, the regular results are placed organically based on which businesses Google deems the best fit for the searcher. Organic GMB rankings are based on the user's proximity to local businesses, the review score and total number of reviews, the content added to the GMB (i.e. business description, photos, posts, FAQ's, etc.), and the user's personal search history. To get your GMB ranking higher on the SERP, look to SEO best practices and consult an SEO expert. 
Google Maps
Google Maps is technically a different entity than "Google Search", but this platform works seamlessly with Google's products so that users can browse the map to look for businesses or points of interest. Your GMB listing will be featured here, and certain actions like getting Driving Directions will utilize the Google Maps platform to route customers to your business. PPC ads can also show up on Google Maps as promoted pins, but all other searches and pins that show up on the map will be organic GMB listings.
Organic Listings
The organic listings are the primary feature of the SERP. Between 40-50% of all clicks in the click study went to these organic listings, with the top spots grabbing most of those clicks. 
These results are organized based on how well the website/business answers the searcher's query, as well as the relevance, prominence, and popularity of the website. Some factors, like reviews, impact organic SERP rankings, along with other external factors like Social Media, website speed, and even PPC. The organic listings are where most of the clicks go to on the SERP, so it is important to make sure your business is ranking highly for your top keywords. 
Knowledge Panel
This is the organic section of the SERP commonly on the right hand side of the page with a full information card featuring a GMB or information from a website. These results can be factual information from Wikipedia, or a full page listing of your GMB. Similar to the organic ranking factors listed above, Google will decide which business/website to feature here if it deems it the "best" answer. This can be results for direct searches for your brand name, or in other cases, Google may feature your GMB here if it stands out from any other competition.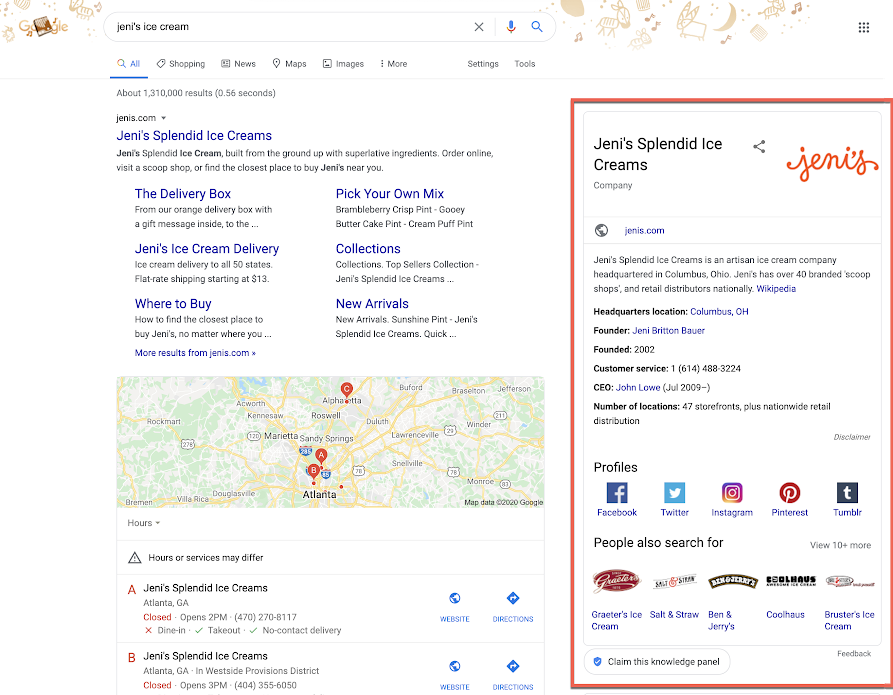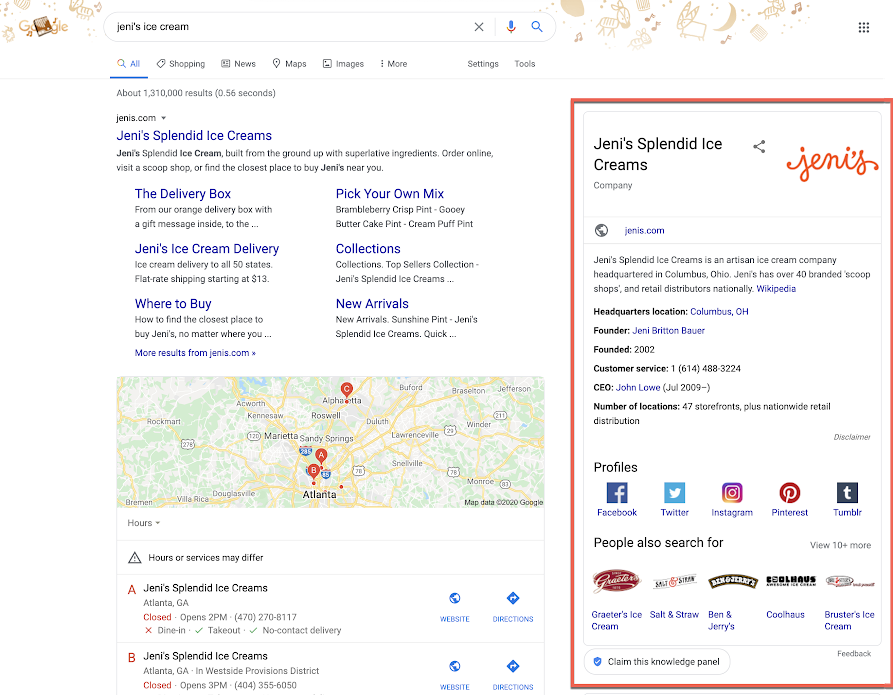 Featured Snippets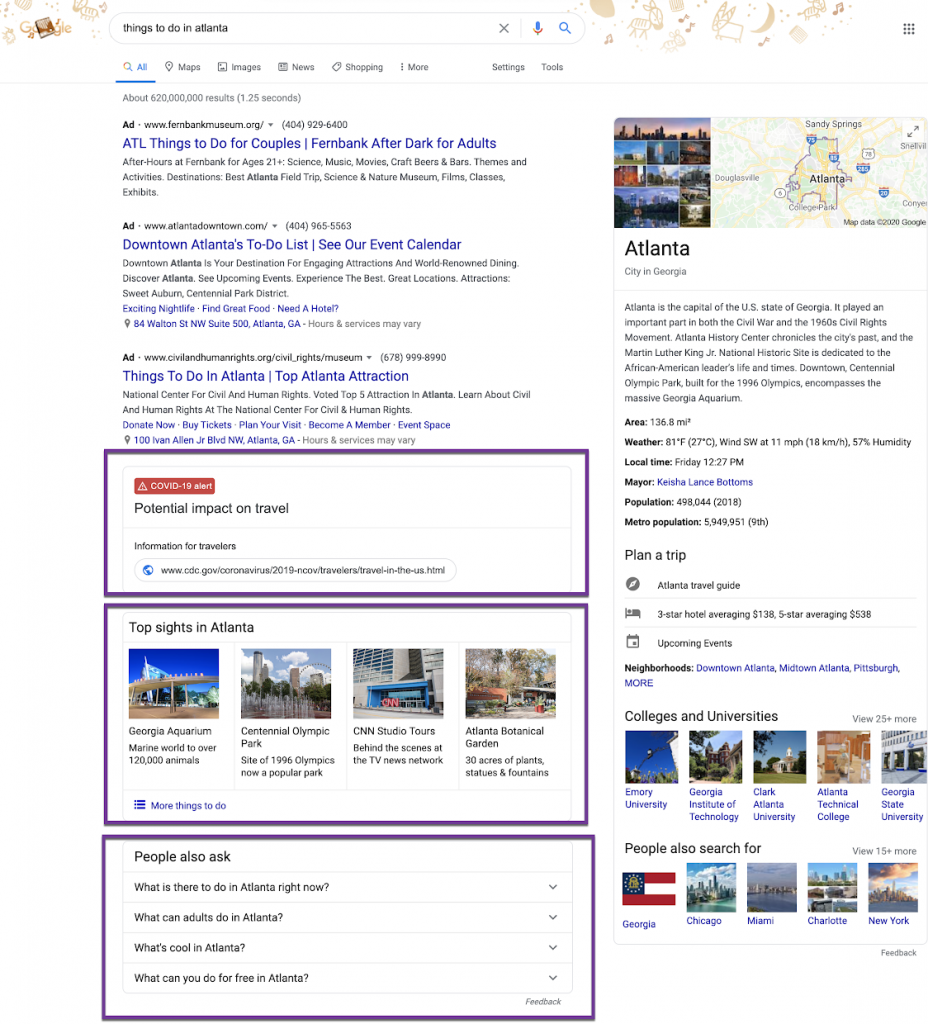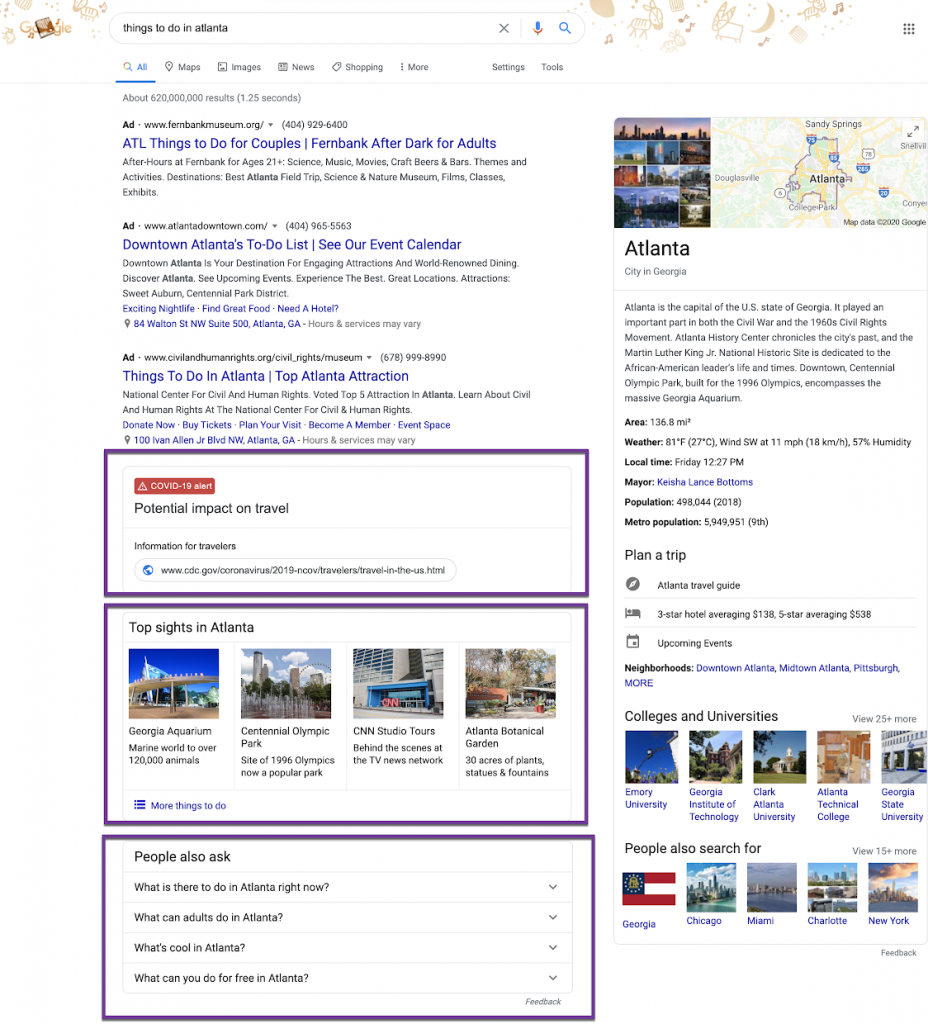 These results are prominently displayed at the top of the SERP to feature answers for the weather, factual information, top news stories, sports scores, and other information that Google can pull from 3rd party sites and show quickly to the user. If you have ever used a virtual assistant like Amazon Alexa or Google's Assistant, featured snippets are oftentimes used to answer questions. So how do you get your website into the featured snippets section? A Google-friendly website has the chance to get their content featured here if the Google crawler can easily grab the information and Google deems your website a trustworthy source. This section of the SERP can be a great way to get your business to the top and really stand out from the competition, but be aware of the "no click search" tradeoff effect that some sites see after they begin to rank in the Featured Snippets.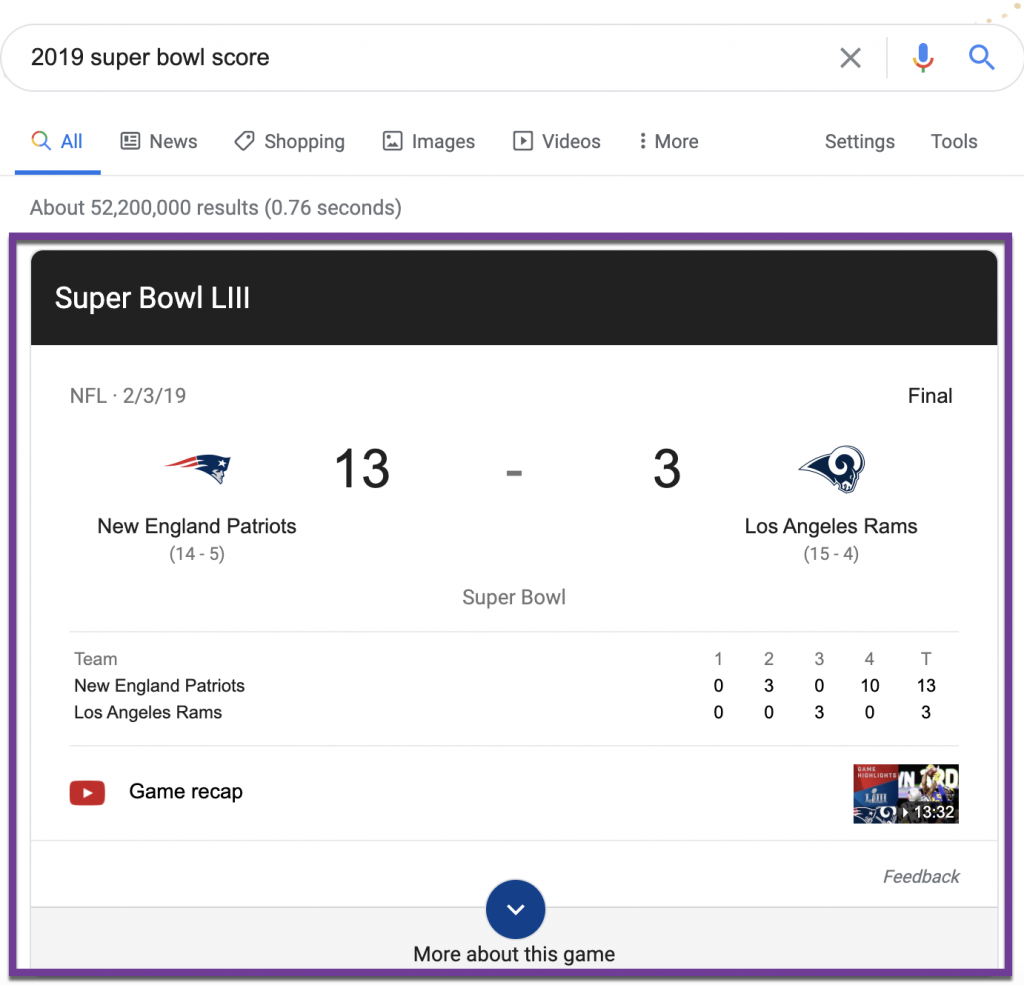 Google Image/Video/News Search
Google also offers specialized search results if you are looking for images, videos, or news articles. Each of these sections have their own unique SERP, with ads and organic listings similar to those mentioned above. 
To get your business to appear in Google Image/Video/News search you must have high quality content on your website designed to deliver the information on topics related to your business that your target customers are searching for. For example, if you own a smoothie restaurant you may want to create a video or infographic on how to make the world's best Strawberry Banana Smoothie. After implementing some great on-page SEO to your website this infographic or video may be eligible to show for searches related to "best Strawberry Banana Smoothie." Similarly, by implementing SEO best practices on your website updates and news, your articles could show up in a Google News search.
A Note on Mobile vs Desktop SERP's…
As the world moves more towards mobile-first, Google's SERP has evolved with this change too. SERP's will look different to users depending on which device they are searching from, and sometimes rankings, ads, and user behavior will look wildly different. Make sure your Google marketing strategy is well optimized for all devices, and look for opportunities to grow in each category! 
Conclusion
Google should be a core part of almost all marketing campaigns since it offers the chance to drive high quality visitors, leads, and sales for any business with an online presence. Make sure that your marketing strategy is able to address and win each section of the SERP so that you can drive more clicks for your business and beat out the competition. It is important to remember that if you are only winning in one of these sections listed above, great work! Now go win the rest! Keep in mind that a percentage of clicks will be distributed to each section, and if you want to get the most clicks, you'll have to be at the top of each section independently. 
So if there were 100 searches for your target keyword in a month, and you are successfully in the Ads, Maps, and first Organic result, you may just be walking away with close to half of all those clicks! Think of the Google SERP as valuable real estate, or a Monopoly board! You want to grab as much space as you can. Plus, when your business dominates the Paid Ads section, the GMB Local Map Pack, and the Organic Listings all at the same time, this strengthens the trustworthiness of your brand, gives you a higher likelihood of winning clicks, and best of all, keeps your competition out of those coveted Google spots.