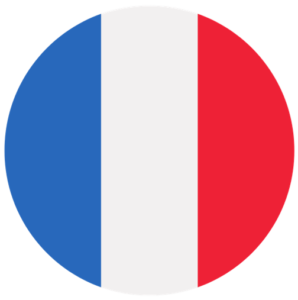 FR
In our previous article on Facebook Marketing, our sales specialist Matt Rister walked you through the benefits of doing Facebook advertising and when to do boosting vs. when to run ad campaigns. In each case, your marketing strategy would've depended on your goals – if you want to increase engagement and build your business community, boosting may be your path to success. If you want to generate leads, however, a Facebook ad campaign is your best bet. In either case, you are getting your ads in front of a specific demographic fit to your marketing needs.
Today, I am going to talk all about building Facebook ad campaigns. I will talk about how to get started and what options are available to you. Let's dive in!
Building Awareness vs. Generating Leads
Okay, so you've decided you want to run a Facebook ad campaign. What next? First, you need to figure out your campaign goals are. They are usually one of two things:
Building Awareness or Generating Leads.
The good news here is that Facebook has multiple campaign types and ad formats fit for both of these goals.
An Important Note Before We Get Started
If you already have a Facebook Business Manager account, it's pretty easy to create new accounts. You simply go to your Business Settings, then select the "Add" button, and select "Create a New Ad Account" from your dashboard.
If you're just starting out, however, it may be tempting to create a bunch of new accounts and test different things out. Just be sure to utilize whichever accounts you create. Do NOT leave any accounts blank, empty and out in the cold. Facebook will usually only allow you to create one account at first. After you've proven that the account is legitimate and it's spending a decent amount of money (don't worry, a few hundred should do), then they will allow you to create more accounts, capping your limit at 5 accounts. Once you're running with 5 accounts, you have to make sure they're ALL running and spending money for some time, then Facebook will increase your cap again. If you have any accounts that are disabled and not being utilized, Facebook penalizes you by not allowing you to create more accounts. It's their puzzling method to prevent fraud on their platform, and it's quite frustrating for marketers and business owners alike. Even if you're a Facebook Partner like us, their customer service is usually lacking.
Campaign Types
Once you've created your account, it's time to give it a campaign. You'll see a dashboard like this, where you have the option to create a new campaign:

Once you select "Create," you'll see a screen like this: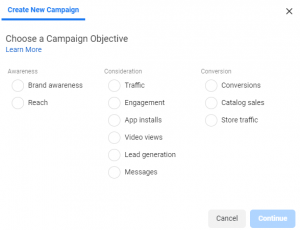 So many options! So overwhelming! Where do I even start? Have no fear, I will walk you through each of these options.
Awareness Campaigns
This is probably a marketer's favorite word, and a business owner's least favorite word. For a marketer, it means you don't have to show results, other than how many impressions you generated. For a business owner, it means spending marketing money where you can't measure the results. Although it's hard to quantify the merits of an awareness campaign, it's still an important piece of your marketing and branding. Studies show that a person has to see your brand at least 7 times before they remember you, the famous "rule of seven" adage.
We like to tell our clients that while awareness is not necessary for generating leads, it is still a good complement to your other lead-generation campaigns, and spending a small amount of money, say $50-$100 a month, can go a long way in making sure people know and remember your brand.
That being said, Facebook offers two awareness goal campaign types: Brand Awareness and Reach.
What's the difference between the two?
Brand Awareness Objectives are designed to show your ads to people who are more likely to pay attention to them, and Reach Objectives Ads are for when you want to reach the maximum number of people in your target audience and control how often they see your ads. So, as far as you're targeting goes, reach is the broadest option, while brand awareness is a close second. This all simply depends on if you want to reach the most eyeballs possible, or a wide swathe of eyeballs that are more likely to keep their attention glued to your brand.
Lead Generation Campaigns
This is the part where business owners' ears perk up. To make money off their marketing, they need to generate leads, then turn those leads into sales. Without it, their business cannot survive.
As mentioned in Part 1 of this article, Google Paid Search campaigns might be a better source of direct leads because you are getting your ad in front of people actively searching for the products or services you offer. With Facebook, however, there are still a lot of good options for getting leads and there are advantages that Google doesn't have. For one thing, you can get your ad in front of a more specific audience than with Google. For example, you can not only target age and gender, but demographics, interests, and behaviors. Some examples include:
Demographics – people with a certain degree, certain income level, life events, like birthdays and marriages, relationship statuses, and who work for certain companies/industries
Interests – people who are interested in certain businesses or industries, who enjoy certain movies, music, TV, or books, who have family interests like parenting, fitness interests like the gym, who eat only vegan food or who love technology or sports or the outdoors. Just about anything you could think to search exists in one form or another with this type of targeting.
Behaviors – games they play online, places they've lived, devices they're on, political content they engage with, if they are frequent shoppers, if they're soccer fans or they love to travel
Not only do you get really detailed targeting advantages, but you can make your ads shine with rich display media – images, carousels, videos, and more. You also have the option to display a lot more text. Here are the suggested character limits:
Primary text: 125 characters
Headline: 25 characters
Link Description: 30 characters
However, you can go over these limits. On some formats, Facebook will simply cut off the text, but in other formats, you can use the space to really sell your unique service or product.
Now, onto the setup. These are my 3 favorite Lead Gen Campaigns:
Forms Leads – good for B2B campaigns and quick leads.
Click to Call Ads – good for service-based businesses
Message Ads – good for businesses in which the customer might have questions before they get started
Form Leads
For the campaign setup, you will select this option: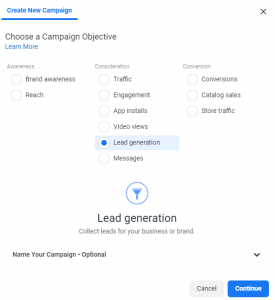 When you create ads, you have the option for an "Instant Form." Here, when a user clicks on your ad, instead of being directed to your website, they can directly fill out a form on Facebook and become a lead for your business. This eliminates extra steps users have to take to become a lead. So they can simply fill out a quick form and keep browsing Facebook when they're done. Sometimes, Facebook will even auto-fill their info, so they are literally only 2 or 3 clicks away from becoming a lead.
This type of campaign works especially well for B2B campaigns, where you really just need to target a specific type of person and turn them into a lead. Here is an example of what we did for an IT client of ours, CMIT Solutions. The campaign was designed at finding new potential franchisees. So, the lead form was perfect for this: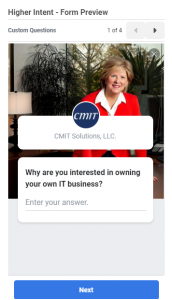 Next, we ask a few simple questions and have the user review and submit the form: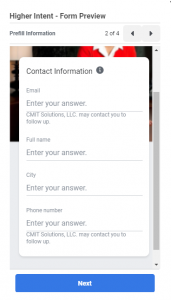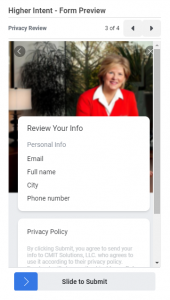 Afterwards, the user is invited to your website to learn more. But, they don't have to make that extra step. The appeal of this is that you can target the right type of user and make it super convenient for them to fill out a form and become a lead.
Click to Call Ads
While this, to me, is a lead gen type of campaign, you will have to set your campaign objective to "reach" in order to run these types of ads. Once you've done this, apply your desired targeting at the Ad Set level and then make sure your placements are set to only mobile devices: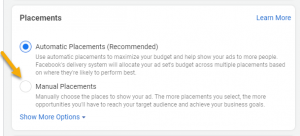 Next, you will create your ad. Once this is done, you will have to choose to "Add a Website URL." This will then allow you to select the "Call Now" Call to Action button, which in turn gives you a field for a phone number: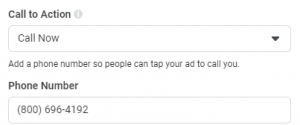 Now users can call your business directly from your ad! Again, this eliminates any extra steps they may have to take of going to your website first and searching for a number. If they are browsing on their mobile device and see something that they are really interested in – i.e., your business – they can give you a call on the spot! Just make sure your copy is enticing enough to elicit this kind of response. Don't just ask the user to call your business – give them a reason to call in the form of some kind of benefit. For example, "Call to learn the best practices of Facebook marketing in 15 minutes!" is much better than "Call Us Today!" Let the user know what they're getting in return for calling you.
This type of ad is especially useful for service-based businesses, where the user may want to speak with a customer service rep before getting started. Some examples that come to mind are people who want to book an appointment with a beauty salon or book a tour with a local daycare. Instead of having to go through a bunch of steps in a complicated booking software on their mobile device, the user can simply call to get their information taken down. Again, we see that convenience makes all the difference for lead generation.
Message Ads
When you choose to create a new campaign, you'll see a screen like this, and you'll choose the "Messages" option: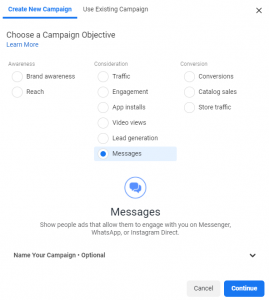 Once you select your budget, audience targeting, and create your ad copy, then you can go ahead and create a messenger script.
A great use case for this ad type is a business in which a potential customer may have a lot of questions they might want answered before they get started. For example, we used this ad type for our carpet cleaning client, Oxi Fresh, to help answer customer questions up front.
When a user sees our ad, they are invited to connect via Messenger with the CTA button: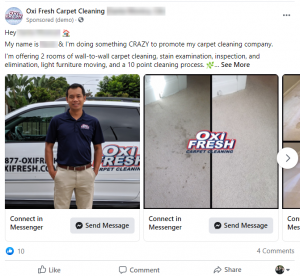 Once the user connects with us on messenger, they can choose to "Book My Deal" or simply "Contact Us." In the former option, they can answer questions to automated prompts. In the latter option, they can talk to a business owner directly.
If they select "Book My Deal," we then ask if the user how many rooms he or she wants cleaned, if they have pets, if there are any concerns we need to know, then for their address, phone number, email, and preferred appointment time. At any time, the business owner can jump into the automated chat and essentially make the sale himself if the user has a question outside of the automated chat. Here's what that might look like: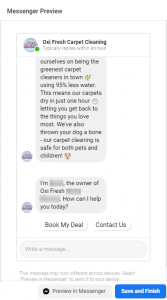 This is an effective way to let the automated responses make the sale for you, or for you to jump into the sale from anywhere on the go to make it yourself. The idea here is that the customer can not only get answers to their questions, but you can get answers to yours, all from the quick expediency of Facebook's messenger tools. So, it is advantageous by creating convenience not only for the customer but for you or your clients as well.
Facebook Advertising Done Right
If there's one thing you take away from this article, it should be that Facebook marketing, when used correctly, can help you achieve your business goals. When it comes to branding, it's a very effective tool as any other. When it comes to lead generation, it's rich media format is an effective way to stand out and grab the attention of a scrolling customer. The main idea when generating leads from Facebook is to make it as convenient as possible for your customers to become leads.