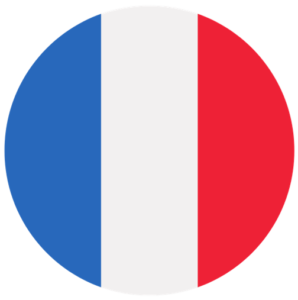 FR
In working with Adplorer for the past few years, I have had the chance to consult with hundreds of small business owners on the phone as I help them figure out and sign up for their online marketing program with us. 
A big part of what I do is educate them on the concepts of online marketing and what it can do for them and, just as importantly, what it can't do for them. I do this because what a lot of them know is only small bits of information about online marketing. Then, what they do know is from what they have heard from friends, family, or associates, or something they heard someone say on a Netflix show. 
For instance, I can't count how many people have asked me, "Do you do Social Media Marketing?" Usually, this means that they don't have any idea what they need to do for online marketing but because they have heard the term social media so much in the last few years, they are convinced that it must be something they are supposed to be doing. 
In fact, with the general way they talk about social media marketing, I sometimes think that they believe there is some kind of
magical social media button that we press and suddenly…
BAM their marketing message goes out to everyone on the internet. 
Then, everyone starts talking about them and their wonderful products and services the same way they do when they see the latest cat video on Youtube which makes everyone start buying their products/services. 
Yea, it doesn't quite work like that.
Case in point:
Facebook Ads
As you may already know, Facebook Ads can be an important part of an online marketing program and 'social media' marketing piece for a small business.
As part of my discussion with the small business, if I feel that Facebook Ads are right for their business, I then need to figure out what they know about advertising on Facebook. I usually start this part of the conversation with 2 questions, "What do you know about Facebook Advertising and do you run Facebook Ads?" At least 98% of the time the answer is some variation of the following:
"I know what Facebook Advertising is. It's where you go to your Facebook Page and Boost one of your Posts, right? Sure we do that all of the time."
That statement speaks volumes to me. It gives me my starting point in this discussion. In case you haven't figured it out yet, what they are actually saying is: 
"I have no idea what Facebook Ads are. I do Facebook Post and Boosting because that's what Facebook tells me to do [more on this point in a minute] and hope that it works."
In order to get them on the same page with me, I know that I first need to teach them the difference between Facebook Post and Boosting and Facebook Ads (which is what I really want to talk to them about), how each one has a purpose in online marketing, and how each works and that's what I want to do here.
Quick Note On Instagram
Since Facebook owns Instagram, most of what we are saying for Facebook and applies to Instagram as well. Moreover, when you set up and boost a post in Facebook or launch a Facebook Ad, they have an option for you to push these out to Instagram as well.   
Section 1: Facebook Post and Boosting
In a nutshell, here is how it works:
You post something on your Facebook Business Page about what's happening at your business (e.g., announcing that for your educational childcare business, you are having a fall festival this weekend and that all current and prospective parents and kids are invited to attend)

You then click the Boost button on the page that Facebook has readily available to you 

Follow a few easy steps that Facebook tells you to do for things like: 

duration of post

Demographics (in this only case age and gender) and search interest of the target audience you want to show the boosted post to

The geographic area of the users you want to show the post too

Pay Facebook a small fee to boost it ($1 to $100+)

Viola!  Your post gets boosted out to the news feed pages of your targeted audience so that they can

react

to the post

If the viewer clicks on your post, then end up back on your Facebook Business Page 
Goal/Objective of Post and Boosting
According to Facebook:
"…Boosting a post may help you get more people to react, share, and comment on it. You may also reach new people who are likely interested in your Page or business but don't currently follow you. (https://www.facebook.com/business/help/240208966080581?id=352109282177656)
For example, in the boosted post below, the message is that Jasper's Market is now open so if someone clicks on the post, they will be led back to the Business's Facebook Page read the entire post about this announcement which may or may not help get them new customers and more business.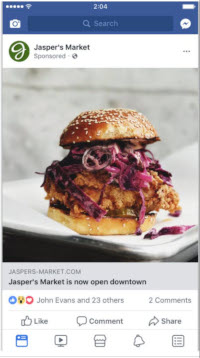 Another way of looking at it is that boosting a post helps you build your following for your Facebook Page or as my boss likes to say, "It helps you build your [business's] community" and the most important metric to measure the success of boosted posts is any kind of post engagement including reactions, comments, and shares.   
Does Facebook Post and Boosting help you Increase Sales?
So now we know that Facebook Post and Boosting helps you build your community through engagement, but I am sure what you really want to know is: will boosting posts generate leads? Or as I get asked a lot, Do boosted posts help you get you more sales/business?  Some, maybe, possibly but what I find is that the less your business is about constant upcoming events (like a Paint and Wine franchise we use to work with that did events at least 4 nights a week), the less boosted posts help you get new business.
In most cases, this new business for boosted posts would be from someone who saw the boasted post on their Facebook news feed page, then they clicked on the post to get to your Business Facebook Page and after poking around the page, then they decided to type in your web address into their search engine or search for you in Google, and then they visit your website or come into your business location and then they might do business with you. That's a lot of thens (a.k.a., maybes) in that scenario to rely on boosted posts to deliver new business to you.
Conclusion on Facebook Post and Boosting

While you might get some sales from your boosted posts, unless you have an event-based business (or some other unique situation) you probably shouldn't rely on them to generate leads or deliver new customers. That said, don't forget that boosted posts can be helpful in starting and building your business as long as you keep in mind what they are designed to do. In most cases, they are more for building your community, reminding people that you are still there, and sharing what's going on with your business. I usually suggest to local small business owners to use them as a Public Relations (PR) tool, as needed, to get the word out about things like special events, grand openings, and unique articles that they post that can be helpful to their community but too not overdo it. The boosted post are cheap and help the business stay relevant and add value to its customers.   
Section 2: Facebook Ads
Once I have gone over Facebook Post and Boosting with my prospect, it time to start talking about Facebook Ads and how these are different. 
Facebook Ads Goals/Objectives:
As I have mentioned in the introduction article of this series, Local Marketing: In the Trenches, all marketing is about building awareness and/or generating leads. While Post and Boosting can be seen as a variation of building awareness, Facebook Ads is about building awareness as well. 
However, Facebooks Ads can also be a good way to generate leads as well for many different types of products and services, depending on your campaign's objective. 
Let me give you an example of what I mean:
For example in multi-location marketing we work with a healthy/superfood cafe franchise, Vitality Bowls that has locations all across the United States. Their specialties include a variety of tasty acai bowls, smoothies, and other ultra-healthy foods that are made fresh to order.
We recently created a new Facebook/Instagram campaign for them. Here is an example of what they look like: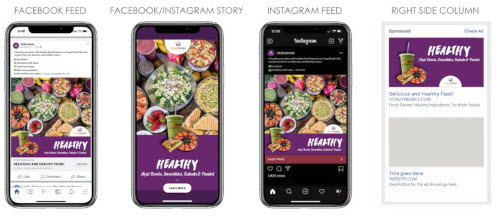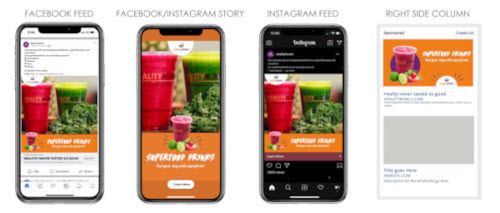 Their objective is to get more new customers while also building their brand awareness in the local area of the restaurant. 
Here is how these ads work to do this: 
We set up the Facebook Ads to show up on the news feed pages of people who are interested in healthy, organic food, close to their restaurant's location

This is Pay Per Click (PPC) and the cost per click on these is pretty low (usually less than $1), so for a small monthly budget (about $200/mth/location) they could get about 200-400 clicks per month

Generating Leads:

Once someone clicks on the ads, they are directed to the Vitality Bowls location's website, not their Facebook Page where they do things like order online, view the menu, or get directions to the location among other things–in other words like Post and Boosting, we are trying to get them engaged but in this case, the viewer will be on the website checking out the business and more likely to make a purchase than if they were going to the Business Facebook Page

Building Awareness

: These ads are indirect leads since we are targeting a demographic and not someone who is searching for their product (unlike Google PPC Ads that are direct leads–people searching for their product), which means that ads show up in large amounts to get those clicks.

Translation: They get between

10,000-40,000

impression views each and every month!
So with about 20,000 impressions and 250 clicks to the website a month, it's easy to see how this would help Vitality Bowls local owners get new customers, grow their business, and increase their bottom line.
Advantages to Using Facebook Ads
Facebook is

where your targeted audience is 

It's

easy to target

the right audience
Facebook Ads are relatively cheap!
They are relatively

easy to set up

They show thousands of times per month, so they help

build brand awareness

They do a

good job of delivering

leads

that are demographically qualified targeted  to a business's website 
Secondary Effect: Because prospective customers see these ads so often on their Facebook news feed page, they could get curious about the company and go back to Google to search for this company and research them more. Thus, Facebook Ads

could lead to at least a small increase in organic traffic

for the business while the ads are running.
How To Set Facebook Ads Up
I won't go too much into depth on this point because we do a deep dive into this subject in Part 2 of this Article (which I will add the link to here as soon as it is completed).
Conclusion
Facebook Ads can play an important part in a small business's online marketing program. They do a good job of helping get new customers and helping local businesses grow their businesses. They are a good hybrid of building awareness and generating leads at a price that usually won't break the bank.  
Recap:
They are better suited for generating business than Facebook Post and Boosting which is more about getting engagement for your post or Facebook Page. 

You can get tens of thousands of impressions and hundreds of clicks for less than $500/mth (in most geographic locations and in many industries). 

While these demographically targeted leads from Facebook Ads are not as strong as direct leads from people who are searching for your product–like they do on Google PPC Ads–they are the next best thing in Paid Search Campaigns. 
Finally and also worth mentioning, when we are helping small business owners figure out their local online marketing strategy and in this case their paid search strategy, many times we find that Facebooks Ads can be a very effective part of this strategy. However, usually, we suggest using them along with other online marketing platforms like Google PPC Ads among others to create the right marketing mix for them. We will talk more about local online marketing strategy in a later article.