Increase Productivity and Efficiency with Adplorer's

 campaign management

tools
Adplorer is an advanced advertising management system and campaign reporting tool! The Adplorer platform connects all of your digital advertising channels including Google Ads, Facebook Ads, Instagram Ads, Bing, Waze, Spotify and Linked In. Track leads with APIs to CRM's like Salesforce, SAP, and call-tracking providers such as Call-Rail, Matelso, Freespee and Wannaspeak to better understand the real ROI from your advertising. In addition, Adplorer connects to platforms like Google Analytics, Google Business Profiles, Facebook Pages, and SERP Api for a full picture of your social and organic reporting.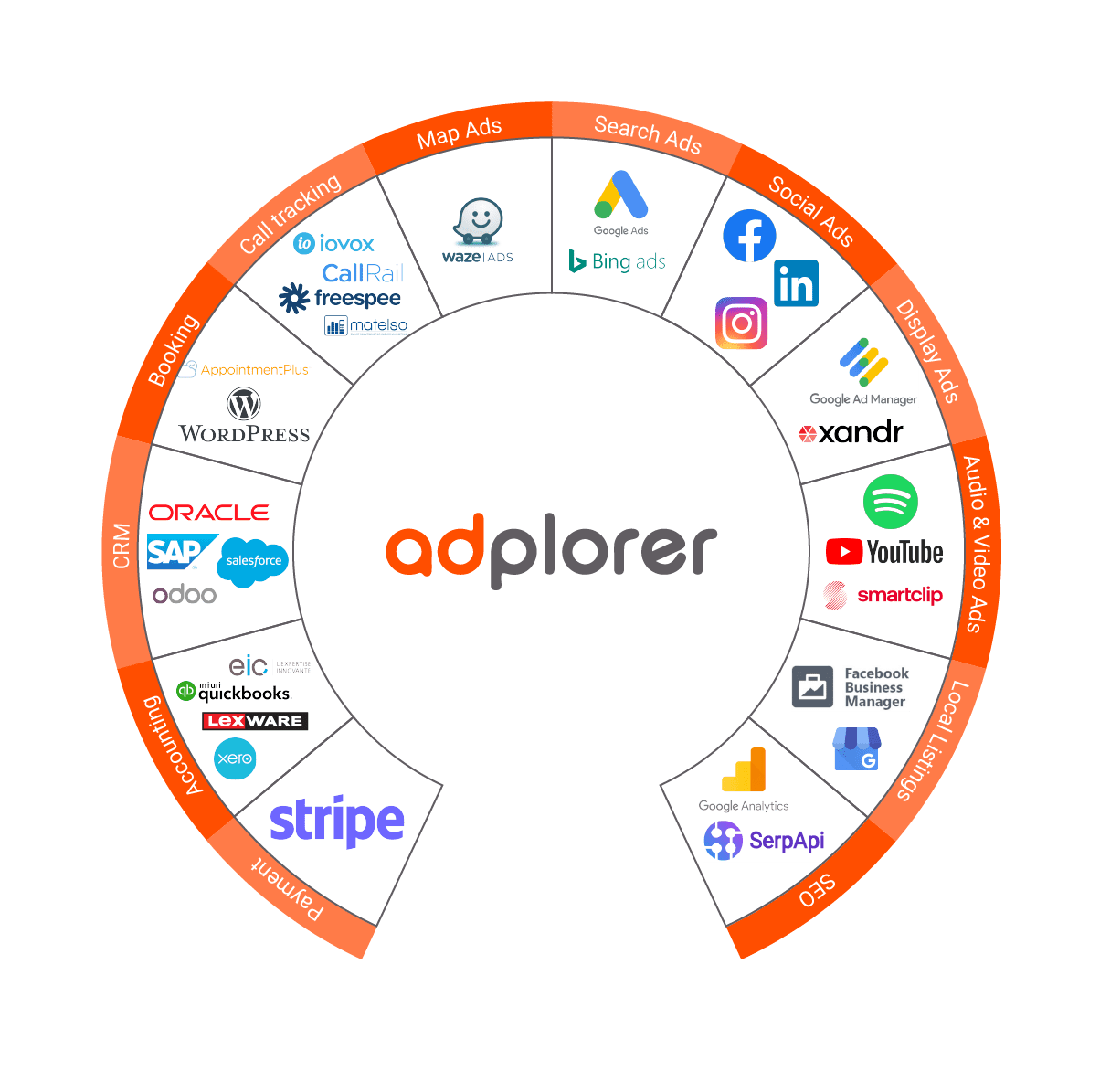 Adplorer not only provides agencies with robust tool for local advertising, but also offers full-service campaign management as a white label service provider if required.
Our local advertising software enables your agency to work smarter, faster, and more precisely. We support your sales staff with sales, your Google specialists with analysis, your social media experts with implementation, your SEO experts with custom reporting, and your managers with administration tools. Our product was developed by a former agency for agencies.
Five Good Reasons Why Your Agency Needs the Adplorer Marketing Software

Save up to 70% on monthly software costs by replacing your individual and separate systems for PPC, social, reporting, and billing with Adplorer!

Adplorer saves your employees time because large parts of your processes are automated  and all digital marketing data can be found in one place!

Provide better value to you clients. With Adplorer you can offer multi-channel, full-service packages at low prices.

Adplorer provides you with an overview of your agency operations. All campaigns are displayed in a uniform standard dashboard, consolidating to-do items in one place and creating clear processes, thus eliminating bottlenecks.

Agencies that use Adplorer require significantly fewer employees to handle large volumes of campaigns. With Adplorer, a campaign manager can manage up to 1500 click-campaigns or up to 250 conversion-campaigns in parallel, while achieving excellent results.
The PPC campaign management tool offers modules for all parts of the agency service
The Adplorer campaign management tool can help with all tasks in your agency. First it helps your sales team and can also be configured as a complete customer self-service. Furthermore, Adplorer allows your campaign managers to create ads for many platforms (Google, BING, Facebook) without logging in to the respective platforms. The creation can be done individually per customer and also in bulk across many accounts. In addition, Adplorer also handles the daily optimization with its own algorithms (click and conversion maximization) and warns you with meaningful alerts as soon as manual action is required. To ensure that you can also show your customers your performance in clear and meaningful reports, Adplorer provides an online reporting dashboard and automated individual customer emails. Adplorer also supports you with an easy-to-use service center where you can keep notes. Finally, Adplorer also helps you to create your monthly invoices, which can be generated at the touch of a button and sent to your accounting software.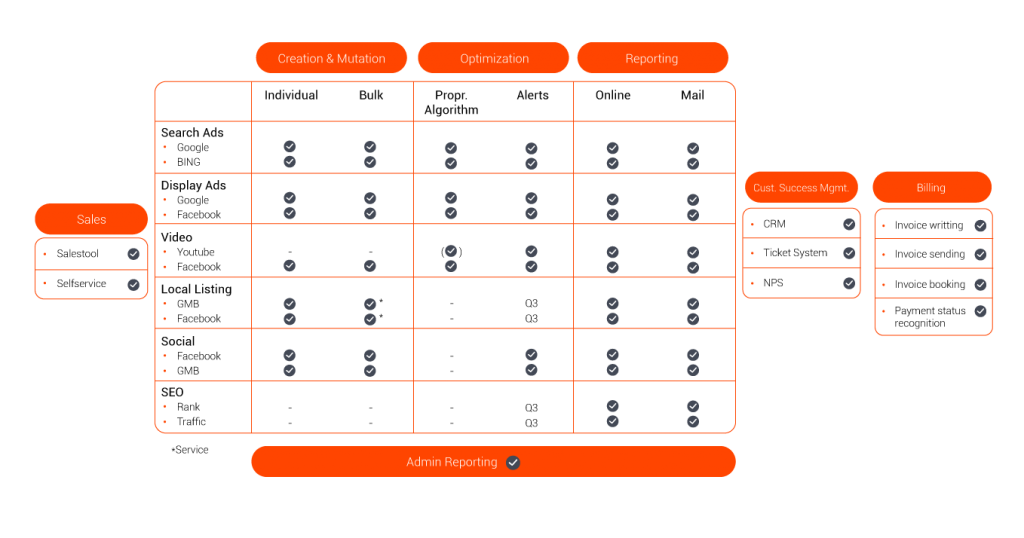 Our agency customers appreciate the Adplorer advertising planner and self-service tool. Both modules are based on existing or easily created campaign templates. This means that customers and sales staff can simulate the performance of high-quality PPC campaigns and book them with just a few clicks. As a result, Adplorer's self-service campaign management tool achieves in two minutes what normally takes two hours. …more about Sales Online Marketing
The creation of campaigns on different marketing platforms is also complicated by the fact that Google, Facebook and other systems each work with slightly different logics and naming conventions. Adplorer's goal is to make this easier, because Adplorer always puts you in the same "marketing world". …more about PPC Marketing
The real agency work begins often only once a campaign has been launched and is producing results. Systematic success is based on constant monitoring of performance and continuous optimization of budgets, bids and advertising messages. These are the strengths of Adplorer … more about multichannel marketing optimization
It is not enough for a marketing agency to deliver only good services, because you also have to communicate these to your customers. This requires regular meetings with customers and good documentation of the work done. You can ensure this by using Adplorer's built-in note taking functions and workflow controls. … more about organization advertising agency
A very important part of the recurring agency work is the preparation of reports for the agency's customers. Customers have different requirements regarding frequency, form and depth of reporting. That's why Adplorer can quickly create and deliver standardized reports via email or online dashboard. … more about Marketing Dashboard

Automation should by no means be limited to bid optimization and campaign creation. Agencies that manage many local marketing campaigns are also faced with challenges when it comes to ordinary back-office tasks. As a result, task management, commission calculation and invoicing are annoying cost drivers.
Adplorer therefore is more than a simple PPC campaign management tool. Rather, it is an full agency management system that contains many other modules to manage all agency tasks. For example, you can easily write thousands of invoices per month. The system also provides you with data for commission settlements. This is why Adplorer is the preferred agency choice for local marketing…more about Post Sale CRM for your agency
Marketing agencies and internal marketing departments use the campaign management tool Adplorer to create and manage paid online advertising campaigns, SEO, social media and reporting.
Adplorer is linked to all major online advertising channels via direct interfaces. These include Google Ads, Facebook Ads, BING Ads. In addition, Adplorer is also connected to Google My Business and Facebook pages via API to manage them. Adplorer also integrates all your reporting, CRM and billing data through available interfaces to Google Analytics, FreeSpee, Matelso, Salesforce, SAP, Oracle, or Lexware. Your current system is not included? Ask our team about our individual API connection developments.
We calculate the platform costs as a % of the advertising expenditure managed by Adplorer plus a fee per linked GMB or Facebook page. Volume discounts are negotiable. If your agency needs additional manual assistance with campaign management, please contact us to discuss our whitelabel service offers!
.
Yes! Adplorer can be easily customized to match the look and feel of your agency – from the reports and dashboards for your customers to the backend management system. We can help you add your logo and customize colors and fonts to match your design. Ask directly to get started!
The best way to get started is to send us an inquiry via our contact form and then talk to us via video conference. We will be happy to answer your questions, help you with onboarding, and provide training and ongoing support for working with Adplorer.